Max Verstappen made history in Qatar and put his name amongst some of the greats of F1 by winning his third drivers' championship. But in such a dominant season, what has been his most impressive quality, and just where does he stand on the list of all-time greats?
To answer these questions, we assembled our group of experts to give their verdicts…
READ MORE: 'You're joining a special group of champions' – How the F1 paddock responded to Verstappen's third title win
What has impressed you about Max the most this season?
Chris Medland, Special Contributor: His ability to adapt so quickly. He's made no secret of the fact that street circuits were never his favourite or strongest venues, but it was when he lost out to Sergio Perez in Baku this year that he learned so much about how to get more out of the 2023 car compared to his team-mate. And he proved it out with the run that followed, clearly going up a level from that point onwards.
David Tremayne, Hall of Fame F1 Journalist: His calmness, consistency, and total focus, despite minimal interference from his team-mate after the first few races and not an awful lot of opposition from anyone else. Like the Red Bull RB19, he was just a relentless machine always seeking to go faster. Plus, the fact that he made so few real mistakes, and that when the potentially biggest one came going up Eau Rouge at Spa, he handled it so adroitly that if you blinked, you'd miss it.
Will Buxton, F1 Digital Presenter: In seasons where champions have little real challenge from a rival driver or team, the key factor to see in them is the ability to consistently seek the fight against themselves. It's something which marked Lewis and Michael out in their eras of dominance, and it is a facet I have seen in Max this year. He has consistently looked at himself and worked at perfecting his craft, improving his performances week on week. He has refined almost every area of his racecraft, calming his temperament along the way, and whilst seeking that higher level also achieved a level of consistency he has never shown before. In almost every regard he has taken tremendous leaps towards becoming the complete driver.
Jolyon Palmer, Special Contributor: His relentless consistency. We all know that on his day Max is unstoppable, particularly in combination with the RB19, but what is more astonishing is how he's not dropped the ball across the whole season in some seriously tricky situations. Winning Monaco in the pouring rain on slick tyres or controlling the race in Zandvoort amidst weather chaos were impressive. Add in numerous impressive pole laps when weather or yellow or red flags played their part. He's become a winning machine in a year where we've had plenty of circumstantial jeopardy. Even Singapore was a decent recovery for him on a day where strategy couldn't have played out any worse for Red Bull.
BUXTON: Nobody came close to Verstappen in 2023 – Catch him if you can
Mark Hughes, Special Contributor: The fact that he is every bit as hungry for more even when he has broken seasonal records, that he pushes himself to the edge every time he gets in the car and that he's combined this with a more global awareness of which moves not to make.
Lawrence Barretto, F1 Correspondent & Presenter: Max has been relentlessly and consistently fast without making mistakes while also flicking a switch between races to turn off and engage fully with his family and friends. This ability to compartmentalise his life so efficiently is a gamechanger and a blueprint for success in any walk of life. Yes, he has the best car – but you still have to get the best out of it and Max has done just that in ruthless fashion this year. This is the most impressive single-season performance the sport has ever seen. Chapeau.
Max Verstappen reflects on momentous hat-trick of world titles
What was Verstappen's best drive or performance this year?
CM: Zandvoort. There were many weekends where Verstappen had small challenges to deal with but the weather that hit that race was enough to trip anyone up. He's been so impressive in all conditions, but it was almost like the rain was trying to beat him, with the late red flag giving Fernando Alonso a sniff and the pressure of doing it all in front of his home fans. And even then, he never put a wheel out of line at any point.
TREMAYNE: Verstappen can hold his head high in the company of his fellow three-time champion greats
DT: In terms of what it said about his challenge for the year, I'd say Miami. At that time Sergio Perez looked a potential threat, but after starting only ninth after an error on one Q3 run and then Charles Leclerc's crash, Max came blasting through to catch, pass and destroy the Mexican in the race. The psychological damage he inflicted there on his closest potential rival influenced the rest of the season and effectively eliminated what little opposition he had to face.
WB: Take your pick. There have been so many magnificent, faultless performances this season. It's only fair, I think, to go with the drive the man himself rates as his finest and that's Miami. Ninth on the grid to a dominant win on a circuit where passing is notoriously tricky, he was brilliant that Sunday afternoon. It is the race that gave him the most satisfaction, and so it's the one I'd have to pick.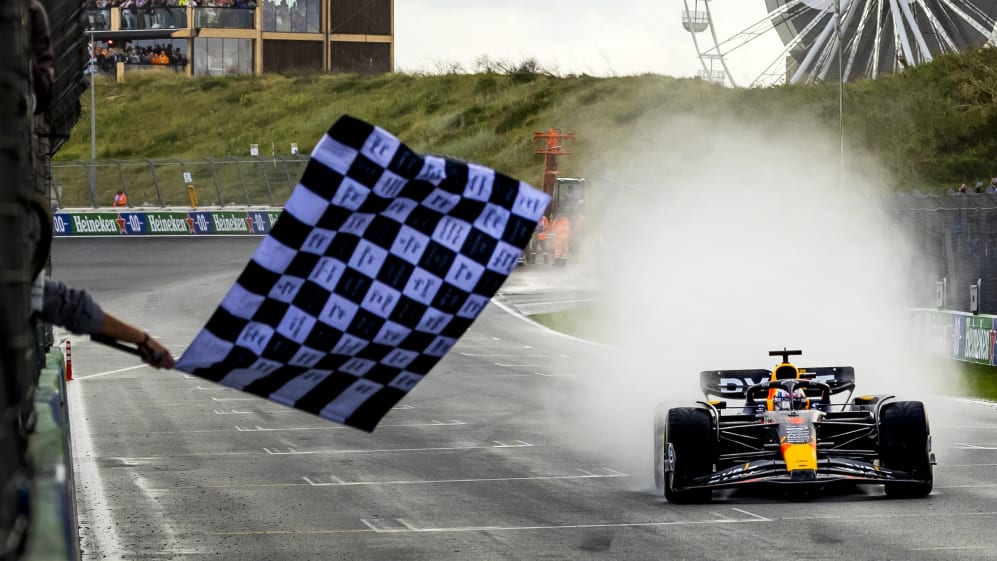 JP: He's honestly not had to work all that hard for many of his wins, but Zandvoort was one that kept him on his toes from start to finish. Starting in the rain on slicks, having dynamic strategies to get right, driving through some traffic on a narrow, slippery circuit before negotiating a late downpour again and a safety car restart with a hungry Fernando Alonso behind – there was plenty going on for Max at the Dutch Grand Prix. Add in the expectation and pressure of his home race and this one was his best in my opinion.
READ MORE: 'He's been on another level' – Rivals quick to praise Verstappen as he makes it three F1 titles in a row
MH: Probably Suzuka. The way he came into that weekend on an absolute mission after the difficulties of Singapore and around a track in which he could fully express himself and stretch the elastic.
LB: There are obviously plenty to choose from, but the stand-out for me was the Dutch Grand Prix. The way he danced his Red Bull around Zandvoort – in front of his adoring orange army fanbase – handling every rain shower and every restart with ruthless precision to win was sensational. He made it look easy when in reality, it was anything but.
Max Verstappen: The DNA of a Champion
Where does this third title put Verstappen on the list of all-time greats?
CM: He's very much in the conversation, even simply because of how few three-time world champions there have been. And to do it in such dominant fashion – despite Sergio Perez showing that it's far from a case of an easy one-two every weekend – after adapting to the car is some performance. While I'm one of those annoying people who groups the greats rather than tries to rank them definitively (especially as they're best judged over an entire career), I'd say Max in his current form has to be considered among the best ever.
DT: Nobody wins three World Championships, and 48 grands prix by that stage (and at the age of 26) without being very special. But for me it's not so much about how often you win but the manner in which you do it, and Max is as impressive as anyone else in history in the way he has relentlessly been putting wins and titles together over the last three years and maximising his equipment. He's a destroyer who can hold his head up high in any company.
WATCH: The DNA of a champion – Verstappen's journey to winning his third F1 world title
WB: It's almost impossible to compare generations, but in winning his first three titles back-to-back, Verstappen has done what only Sebastian Vettel did before him. That in and of itself is an impressive feat. The fact he's achieved all he has at such a young age and is locked in with Red Bull for the majority of the decade to come, also provides little indication of a sudden cessation of his run of success. Are statistics alone enough to place him in the pantheon of the all-time greats? Arguably not, and there will be many who will forever try to denigrate his achievements and success with asterisks against his title campaigns. I won't try to compare with racers I've not seen and reported on in the flesh, so all I can do is judge Max against the great champions from Schumacher onwards, and for me he has all those same hallmarks that set apart Michael, Fernando, Sebastian and Lewis as the greatest of their time.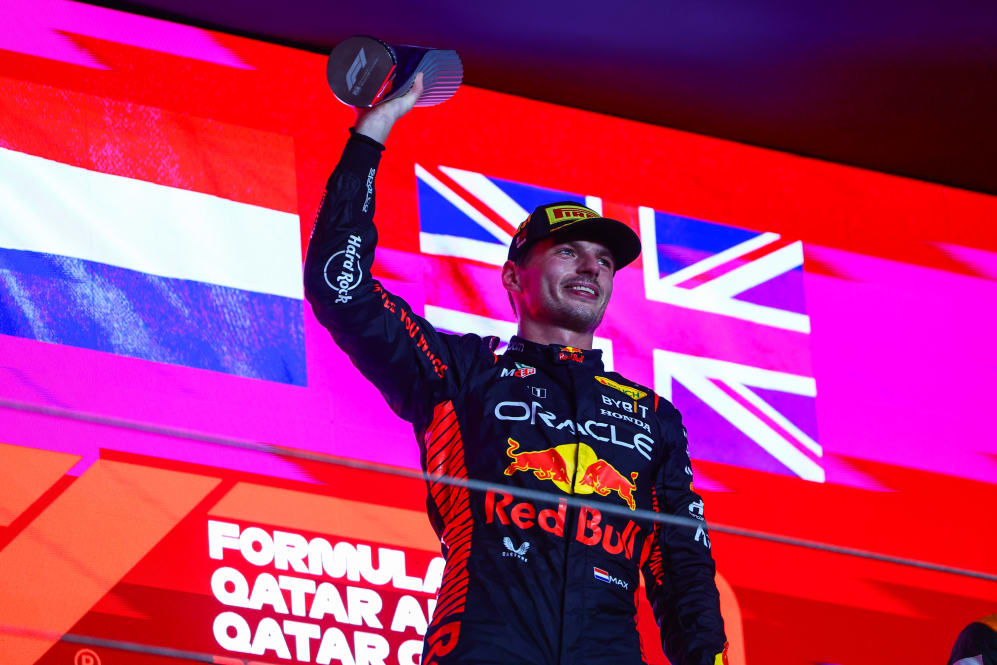 JP: I don't think it matters where he stands now in the list of greats. For Max it's constantly evolving with every passing year and there's only one way he's headed – the Senna, Schumacher, Hamilton bracket of GOAT. With three world championships he's probably not quite there yet, but he will be once he's done with Formula 1, whenever that will be.
MH: Oh he's been among them for a few years now. All that's happened is his cars have got better and better since 2019 until he's now in a dominant one. I'm reluctant to rank the greats because the demands of the eras are so different, and we don't have them against each other to bring out the outer reaches of their respective abilities. But he's among a handful.
READ MORE: 'There's more we want to win' – Verstappen vows to keep pushing after title-winning Qatar weekend
LB: Winning three titles is an impressive feat. Winning them successively is even better (only Michael Schumacher, Juan Manuel Fangio, Sebastian Vettel, and Lewis Hamilton have previously done so). The way he has destroyed the opposition is extraordinary. He's been so good; Red Bull would still be leading the championship if they were just a one-car team. He's right up there with the best the sport has ever seen. Continue this form and he's on track to become the undisputed number one.
2023 Qatar GP Sprint: Max Verstappen crosses the line to claim his third world championship
Who do you think is best placed to challenge Verstappen and Red Bull in 2024?
Chris Medland, Special Contributor: I genuinely think any of the four chasing teams – Mercedes, Ferrari, Aston Martin and McLaren – have shown they can challenge at different times, especially with the rapid gains made by the latter two, who have improved facilities and new personnel to continue that trend. But I still feel like Mercedes are most likely to be the team to do so. Ferrari's momentum stalled a little after the strong start to last year, whereas Mercedes got their car wrong again this season and surely will have learned the direction they need to take in 2024.
READ MORE: Horner says Verstappen is amongst the 'greatest this sport has seen' as he applauds three-time champion

David Tremayne, Hall of Fame F1 Journalist: This time last year we all held high hopes of Mercedes and Ferrari and were disappointed. I cannot believe either of them will fail again so badly, so you'd have to hope they figure things out better and can start to challenge. McLaren, too, looks much more threatening in their latest no-nonsense guise under Andrea Stella, so I certainly wouldn't rule them out, either.
Will Buxton, F1 Digital Presenter: McLaren look the best positioned given the huge leaps they've made in-season in 2023 and the slight advantage their championship finishing position will give them over their rivals in developmental time in 2024. Mercedes find themselves two years behind the curve of understanding the concepts they will doubtless have to adopt for 2024, but should they harness their potential early, you can't ever count them out. They, with Ferrari, have a lot to prove. But I'm expecting the most from McLaren.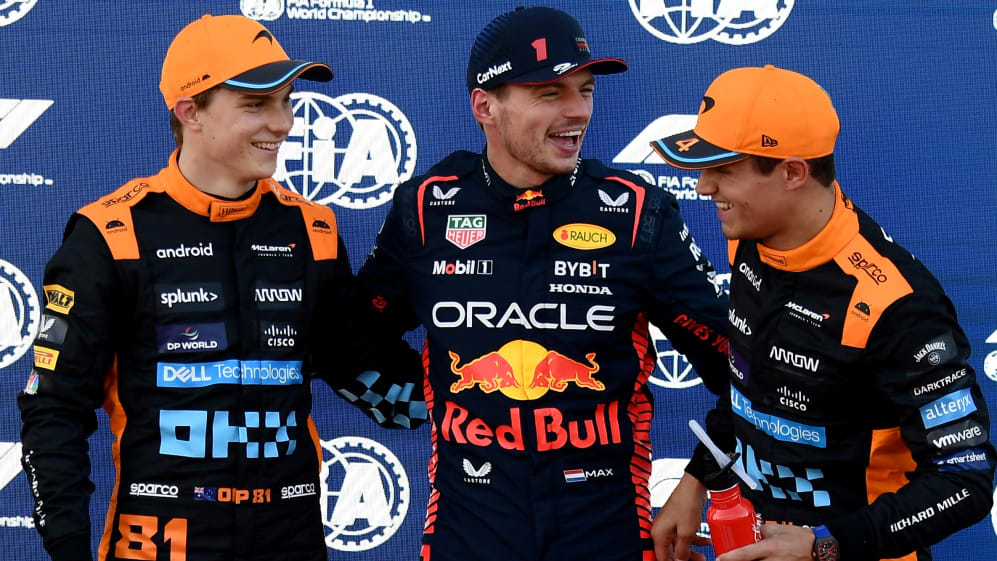 JP: Hopefully plenty of different teams can challenge. McLaren's trajectory clearly marks them out as potential rivals for 2024 and I think they've got a serious driver lineup who would revel in the opportunity. Hamilton has had a superb season this year and could yet clinch second which would be remarkable and prove he's still got it when he has the car underneath him, but can Mercedes leap forward enough with a new car concept? Hopefully, Ferrari can mount a challenge as well. The challenge may come from a number of areas, but the bigger question is can anyone topple this dominant pairing next year? Without a major rule change it'll be immensely difficult.
READ MORE: Inside Red Bull's rocket ship – How its remarkable dominance was achieved
MH: Well McLaren is looking the closest in the latter half of this season so they would be the logical starting point when looking for likely '24 challengers. They have clearly grasped a vital part of understanding the nuances of this regulation set sooner than Mercedes or Ferrari. But things can change so suddenly from one season to the next.
LB: McLaren seem to have cracked the technical regulations first introduced for 2022 with their last two upgrades and that's moved them into the role of Red Bull's biggest challenger. With a settled technical team, an inspiring boss in Andrea Stella, a cohesive operation that knits the factory and track together and two drivers – Lando Norris and Oscar Piastri – operating at a very high level, I think they are in the best position to stop the Red Bull-Verstappen juggernaut. And if Red Bull's Sergio Perez doesn't up his game, McLaren could be a genuine threat in the constructors' championship next year.