They're going to make a bit of a fuss of Sir Jackie Stewart at Monza this weekend, and rightly so. But that isn't why, with one exception, he has always loved the place.
"At Monza the crowd is so fantastic. The crowd's great in Brazil because of Emerson and so forth in the past, but in my opinion, the greatest aficionado spectators in the world of Formula 1 are definitely in Italy. They are more knowledgeable, they know the whole thing and I've always been super impressed by them when I go to Monza. They've got great memories.
READ MORE > IT'S RACE WEEK: 5 storylines we're excited about ahead of the Italian Grand Prix
"Let's say you and I, at the end of the race, went and stood on the pit wall. The support I would have from those people would be enormous. They're true aficionados, and they knew everything about you.
"I remember I took one of the Heineken people there the last time I was there and I think I signed four passports. Grown up people who were kids back when I raced there, they wanted to get my signature on their passport. That type of thing happens in Italy more than it would have done in Brazil, or any other country for that matter. I mean, that's a silly little thing I'm talking about now, but it's nice because they remember people and respect them.
"Emerson got enormous attention back home when he was coming in because he was the first Brazilian to make it, long before Piquet and Senna. But I think the tifosi are the best, the most knowledgeable fans."
And when there isn't a Ferrari in the reckoning, they'll often switch allegiance to a former red car racer. Jackie laughs at the memory of 1967, when former Scuderia star John Surtees – Il Grande Gianni – won the race for Honda. "They loved that, didn't they?"
Top 10: Moments of Jackie Stewart Brilliance
Back in 1965, Stewart scored the first of his own 27 Grand Prix wins at the cathedral of speed, beating BRM team mate Graham Hill to the line.
"Yeah, I became a Grand Prix winner for the first time there, in my first season. That doesn't often happen, I don't suppose. And then in 1969 I won my first world championship by such a small margin from Jochen."
READ MORE: Celebrating the Flying Scot Jackie Stewart – 50 years after his third and final championship title
That was the race in which his Tyrrell Matra-Ford crossed the line just 0.02s ahead of his close friend's Lotus-Ford, with team-mate Jean-Pierre Beltoise third just 0.09s behind the Austrian and 0.08s ahead of Bruce McLaren's eponymous racer. Just 0.19s covered all four.
"There was always a huge crowd every year and, like I said, they were fantastic. You've got to keep in mind that in those days Helen would be on the podium with me. And when we came down from it that year the crowd absolutely went crazy. They were waiting at the bottom of the podium and started to follow us.
"We couldn't get away. So we went into Race Control, but they broke in there and Helen and I went into a loo to get away. But they started to break the door down so we got out a window and ran into the paddock!
"There was a Dunlop van next to Ken's team area and we jumped into it to get away from everybody. Eventually they turned the van on its side, but by then we'd escaped.
BEYOND THE GRID: Sir Jackie Stewart on surviving and thriving in F1's most ferocious era
There was a very good friend of mine who turned out to be quite famous. He was a great gambler and the best backgammon player in the world. Philip Martin. And at that time he had the hottest roadgoing Mercedes there was. Helen and I dodged out the other side of that truck before it got turned over, and Philip had his car there. We jumped into that and he took off. It was just amazing…"
Half a century ago he clinched his third and final world championship at Monza, finishing fourth after a tremendous drive back from 20th place after tyre problems.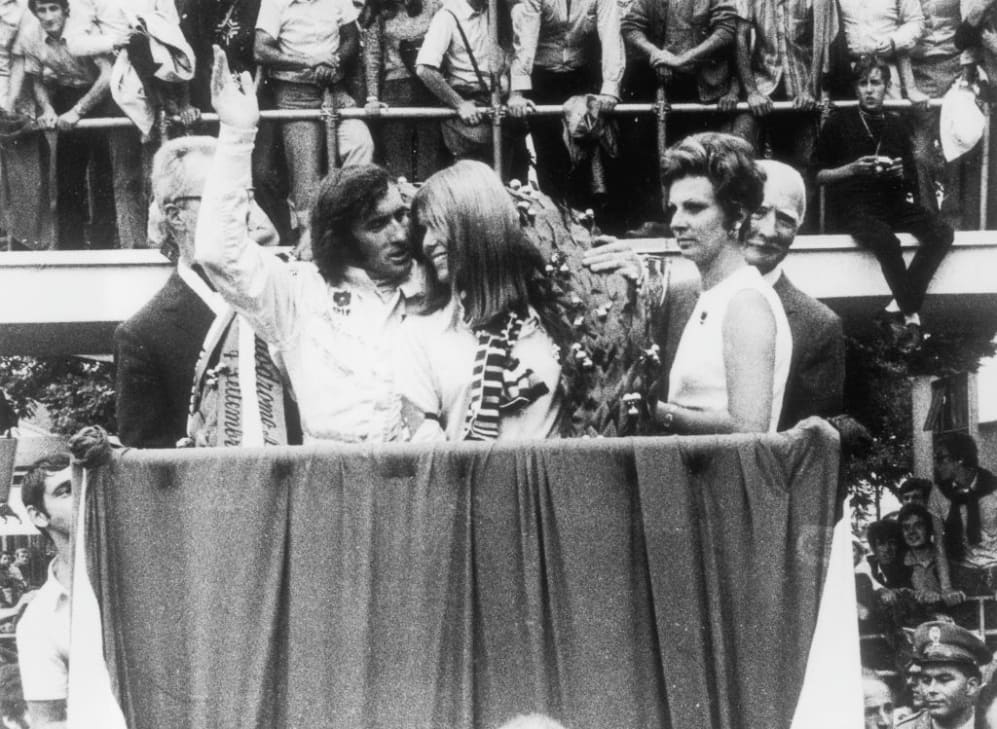 He was out-performed in qualifying by Lotus's Ronnie Peterson, McLaren's Peter Revson and Denny Hulme, Peterson's partner Emerson Fittipaldi – who was the only man who still had an outside chance to beat Jackie to the title – and Surtees' fast Brazilian Carlos Pace. But there was a reason.
"I'd just had my cholera jabs and was getting terrible headaches as a reaction, so that day I wasn't well at all but come race day I was much better."
WATCH: From his first win to a Nurburgring masterclass – 10 moments of Jackie Stewart brilliance
He ran fourth initially, behind the Lotuses and Hulme and ahead of Revson, but after seven laps he felt the telltale weaving that indicated a rear tyre problem. "You feel it right away in a Formula 1 car, of course.
"I could see in the rearview mirror that the right rear was a funny concave shape, and after Revson overtook me I came into the pits at the end of lap eight. And it was a slow pit stop. It took an age to get it done. I mean, in those days you didn't do wheel changes. So we were in a very long time. When I rejoined, it felt like nobody was reachable."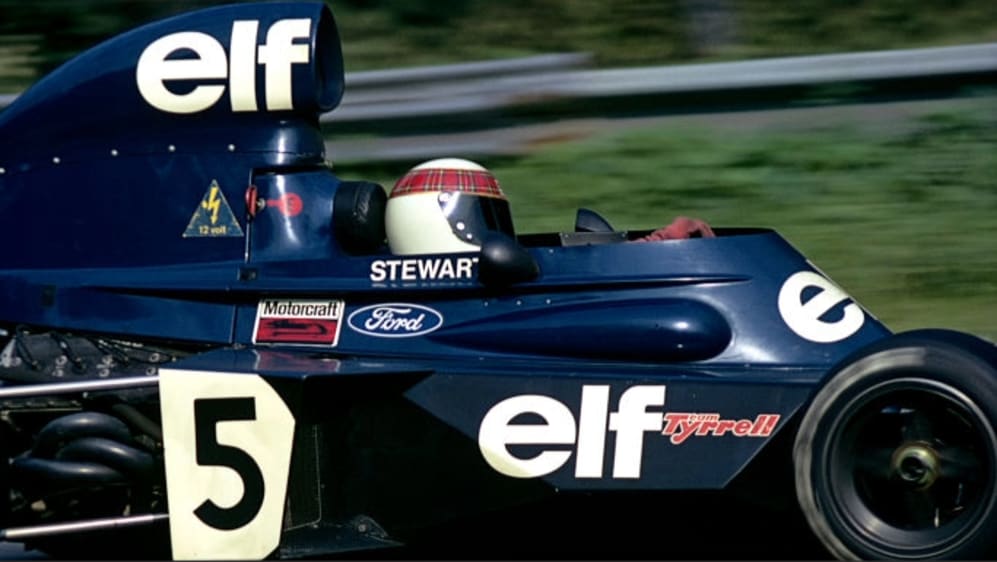 Incredibly, he was about to repeat the feat of his countryman Jim Clark from the 1967 race, coming back through the field. But where the other great Scot actually got into the lead before running short of fuel and dropping back to third, he'd had the advantage for a time of a slipstream from team-mate Graham Hill who was leading until his engine broke.
"That's right, about Jimmy. But I was definitely on my own. But it turned into one of my best races. And then there was a bit of fun because Ken kept putting out strange messages on the pitboard. For example, one of them was 'Minus 10, Fangio.' And then it was 'You're up to three behind Fangio now.' It was all a load of nonsense, of course, but it was good. And it helped to keep me focused. My lap times were good, and I set a new lap record of 135 mph on the 51st lap."
READ MORE: A letter to my younger self – Sir Jackie Stewart
He worked his way through the field with icy composure. By Lap 21 of the 55 he was up to 10th, chasing Peterson and Fittipaldi who were locked in their own intra-team fight, Revson, his own team mate Francois Cevert in a similar Tyrrell, Carlos Reuteman's Brabham, Mike Hailwood's Surtees, Jacky Ickx's Ferrari, Jean-Pierre Beltoise's BRM and George Follmer's Shadow.
Follmer succumbed on Lap 22, Beltoise on 26, Ickx on 33, Hailwood on 37, Reutemann on 42, and Cevert waved him by on 49. Up front, Peterson did not do likewise for Fittipaldi, so fourth was sufficient for Jackie to secure that third title success.
Top 5: Jackie Stewart's greatest F1 wins
"I was really up the backside of Peter Revson, who finished under five seconds ahead, and think I could have got him in another lap. I was going okay. It was one of my better drives, I think."
Ronnie won at 132.63 mph with Emerson averaging 132.61. Revson's average was 131.92s, Jackie's 131.81. Not bad, considering that lap with the puncture and the lengthy pit stop… Could he have won that race if not for the puncture?
LISTEN: Jochen Rindt remembered – by Helmut Marko, Jackie Stewart and Bernie Ecclestone
"I would have thought so," he says matter-of-factly. He was feeling much more chipper than he had in qualifying, and his fastest race lap of 1m 35.3s bettered his qualifying run by eight-tenths.
For all its brilliance, that race wasn't quite his best. "No, the best race was the Nürburgring in 1968, wasn't it?"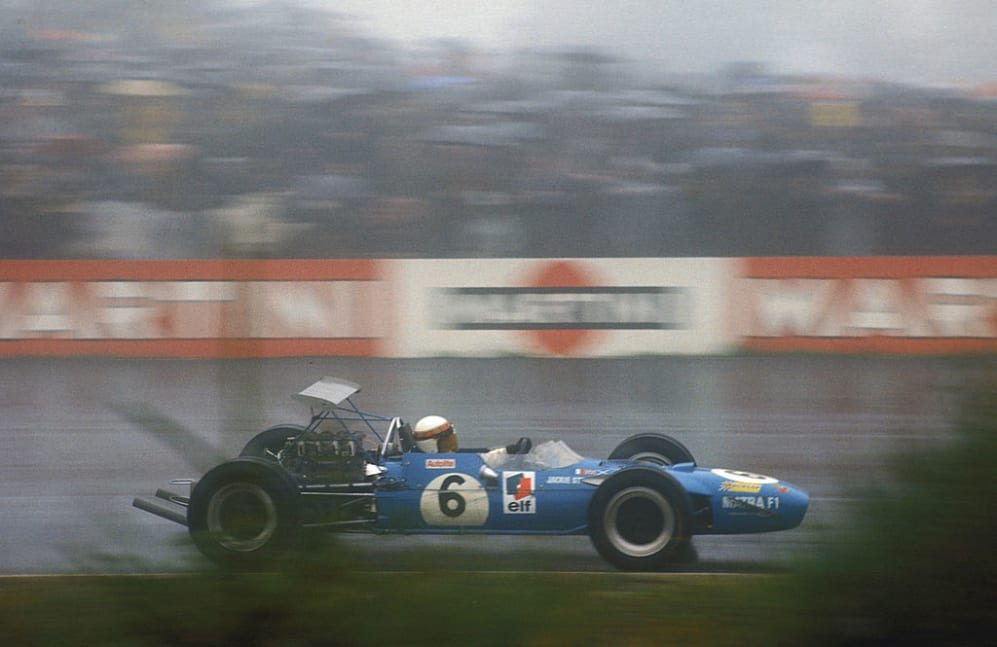 That was where he won by more than four minutes in dreadful conditions of rain and fog on the most challenging race track in history. Given the state of the circuit and that the race came at the same time in the month on which drivers, including the great Clark, had been killed in the preceding four months, one might argue that it is the best Grand Prix victory in history.
"That was my best race ever, as far as my ability was concerned. But can you imagine it starting now? They'd never run it, would they?
READ MORE: F1's Best Drives #1 – Stewart conquers The Green Hell
With the brutal exception of 1970, when Jochen was killed, Jackie has fond memories of the great Autodromo Nazionale Monza.
"I don't know quite what they're planning to do this weekend for me, but it'll be a nice touch because of it being where I scored my first-ever Grand Prix win, and clinched my first world championship and then my third. All three of those occasions meant something special to me."