It's time to delve into some of the hot topics that surfaced from the 2023 Motul TT Assen
We're never short of talking points in MotoGP™ and the Motul TT Assen was no exception. Here's a few topics we've picked out for you to delve into:
Brad Binder: "I don't know what I was doing"
Two podiums went astray for the Red Bull KTM Factory Racing rider – both for the same offence at the same corner! Binder had this to say on Sunday afternoon after Turn 8 had struck twice at Assen.

"I saw a replay and was like, 'f***'" – Binder 25/06/2023
"I think we did a good job today – until the last lap. And for that I'm extremely, extremely sorry to my team because I took away two podiums for them. They've done a great job, put in a huge effort and I'm sorry to mess it up like that for them.
"Again on the last lap. I didn't know I'd even touched it. And then we went to turn one and Aleix was pointing at the green and I didn't know. I was just like whatever. Then I saw the TV and I was like, how did I do that again? Anyway, it's it is what it is. It's the rules. I touched it by maybe a couple of millimetres again. But end of story pretty much."
Aleix Espargaro: "I know how hard has been for him"
One of the best sights of the weekend was seeing Pol Espargaro (GASGAS Factory Racing Tech3) back in the paddock for the first time since Portimao. Here's what his older brother, Aleix Espargaro (Aprilia Racing), had to say about the #44's return.
"It's been very emotional to have Pol on the grid. It's not a place where I want to see him. I want to see him in the bike, fighting with him. But when I saw him coming into the grid, for me it was very emotional. I know how hard has been for him, not physically because physically, he has a lot of injuries, but I mean it's part of the game. We know it.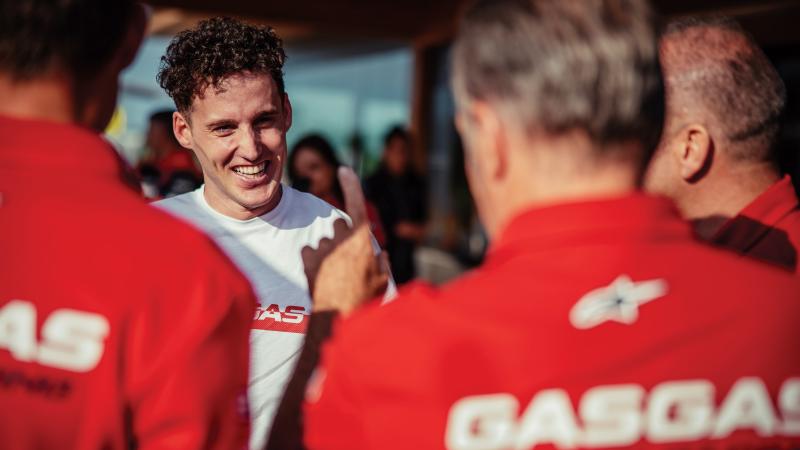 Pol Espargaro: "After the 3 months I've had I feel amazing" 24/06/2023
"But mentally to be out a lot of weeks, a lot of days and doesn't know when he was able to come back. It's not easy. So I'm very happy for him that he's here, that everybody in GASGAS receives him as he deserves.
"As a brother, I'm very happy for this weekend for him. Actually, he didn't want to come. He's here for me. Now I can say. I push a lot the last two weeks for him to come, and finally he said 'OK, I will come just on Saturday'. I said, 'OK, Saturday is good enough, but everybody wants to see you'.
"Because when you are at home, it's difficult for you the journalists, and also for his team to understand how he was. But he's good. He's fine. He's ready to be back. So I think he had to come here and prove that. And I'm very happy."
Marc Marquez (Repsol Honda Team) arrived in Assen off the back of five crashes at the German GP – the final one in Warm Up causing the eight-time World Champion to suffer ankle, thumb and rib injuries.
Following two more crashes and a sleepless night on Saturday, Marquez was declared unfit for Sunday's race. Listen to what the Spaniard had to say about his current situation in the link above.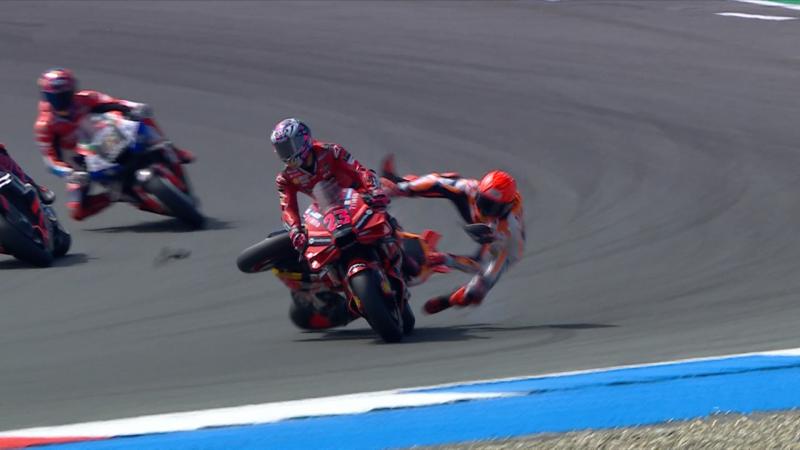 WATCH: Marc Marquez crashes after contact with Bastianini 24/06/2023
On the same topic, Repsol Honda Team Manager Alberto Puig spoke openly about Marquez's latest setback and how bad of a scenario Honda currently find themselves in.
Marco Bezzecchi: "Now to be here, fighting for podiums, victories, it's amazing"
It was so close to being a perfect weekend at The Cathedral of Speed for Marco Bezzecchi (Mooney VR46 Racing Team). Pole position and a Tissot Sprint win came on Saturday, before the Italian finished a close second to Francesco Bagnaia (Ducati Lenovo Team) on Sunday.
Post-race, Bezzecchi spoke about his love affair with Assen and the history he has at the circuit when he used to come and support Valentino Rossi with his parents.
"At this track I had very good memories, aside from the result from last year. Also when I was very young, my mum and my dad were coming here and bring us to see races with my sister. And for me it was fantastic. I really remember the grandstands didn't have any barriers, so you could be really close to the track. I was already following Vale a lot, he was my idol. I was dreaming to ride on that track. Now to be here, fighting for podiums, victories, it's amazing. It's a place that I really like."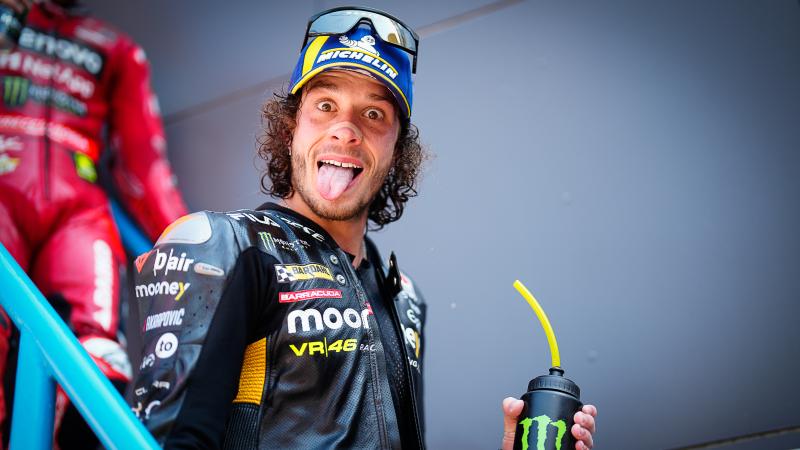 Bezzecchi talks "very strange" issues when pursuing Bagnaia 25/06/2023