When Fernando Alonso left Formula 1 at the end of 2018, after 17 years in the sport, the Spaniard did not know what the future would hold. Despite his near unrivalled belief in his own ability, even he knew coming back in a driving capacity – and with a team that could compete – was a long shot.
"We will come back maybe one day as a tourist and as a commentator and enjoy Formula 1 in a different way," he said after the 2018 Abu Dhabi Grand Prix – a race where he finished 11th after a wild performance that saw him pick up three penalty points in three separate incidents.
READ MORE: Alonso addresses chances of Spanish GP victory as home fans give him 'special energy'
Fast forward four-and-a-half years and Alonso can hardly believe what is happening to him. After a first F1 career ladened with near misses, bad luck and some bad judgement in terms of team moves, the double world champion – at 41 – has found himself in a position to achieve what looked like the impossible, a return to the top step of the podium.
It is a remarkable turn of events. When he ditched Alpine – the team that offered him a lifeline by giving him a seat on the grid in 2021 but had dithered about offering him a new contract for 2023 and beyond – few thought a move to Aston Martin, who finished a disappointing seventh out of 10 teams last year, was anything other than a last hurrah and chance to scrap for points – and maybe the odd podium – to close out his career.
But it has proved to be a move as inspired – if not more – as his old team mate Lewis Hamilton's step from McLaren to Mercedes, a partnership which yielded six titles in seven years for the Briton.
Aston Martin are the second-best team on the grid this year. In Alonso's hands, the AMR23 has finished on the podium in five of the six races so far (he was fourth in the other).
When behind the wheel, Alonso feels a confidence in the car he's not felt for more a decade. When he turns in, the front end does what he wants it to do. As he exits the corner, the rear end is majestically compliant. When the wind picks up, the car remains stable – rather than being unsettled. Through the slow-speed, the oodles of downforce glues it to the corner to generate speed and good traction. In the fast stuff, the car is on rails.
Alonso has dreamed of having a machine like this for years. There is a perception that if you have the best car in F1, you will win. Some try to take credit away from the likes of Max Verstappen and Lewis Hamilton as their triumphs have come in a machine far superior to the others. But it's one thing to have a good car, quite another to get the most out of it – and do so consistently. Alonso is doing just that.
While built to the same regulations, every car is very different. It takes time to adjust to a new machine, time to understand how a new set of engineers and mechanics operate, how a new team of people make decisions both on and off track. We saw Carlos Sainz take time to gel at Ferrari. It took time for Alonso to shake the rust off after two years away when he returned with Alpine. Ricciardo never quite made it work at McLaren despite excelling when at Red Bull.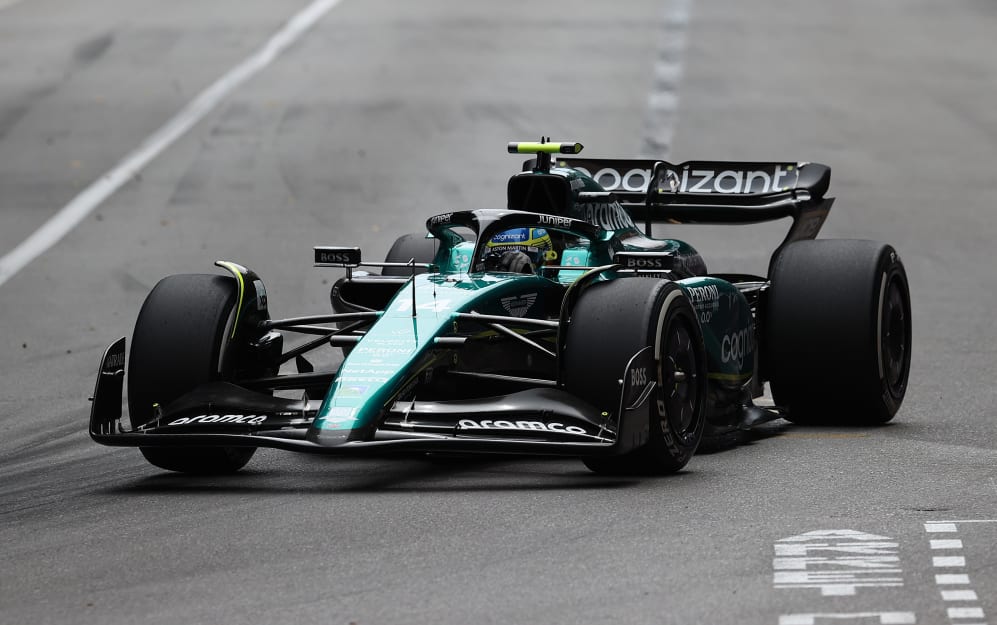 That makes what Alonso is doing, against drivers half his age, even more impressive. He had one run in last year's difficult car – one which sources say he said wasn't as bad as he had thought it would be – at the end of season Abu Dhabi test and then just 270 laps of testing in Bahrain before kicking off this campaign.
He's opened his account with three successive podiums and has a tally of 93 points, which is just 12 points shy of Sergio Perez's Red Bull – described by some as one of the best-ever F1 cars – and a massive 66 ahead of team mate Lance Stroll, a driver who Alonso said earlier this year has the skillset to become a future world champion.
He heads into this weekend's Spanish Grand Prix – his home race – as a clear contender for a podium and brimming with confidence. Alonso was just 0.084s off pole position in Monaco, the closest he has been to pole during the hybrid era that began in 2014. The Spaniard has the best average qualifying spot of anyone this year so far with 3.5 and has already scored more points in the first six races than in any full season since he left Ferrari at the end of 2014.
READ MORE: Aston Martin and in-coming engine partner Honda open to extending Alonso tie-up for 2026
He's competed in a staggering 160 races since his last win – the Spanish Grand Prix at the Circuit de Catalunya-Barcelona in 2013. And while he will know that ending that run at this track – where Red Bull are overwhelming favourites as the layout of the Spanish venue will play to the RB19's strengths – is unlikely he knows he can put himself in a spot to take advantage of any opportunity that might come his way.
Alonso is already looking at the longer game, though. If not in Spain, he knows there will be chances to win races this year. Red Bull are unlikely to be bulletproof at every race and, if Aston Martin can continue to be the second-best and slowly close the gap, Alonso will be best-placed to take advantage.
Billionaire Lawrence Stroll's team haven't run many upgrades yet, instead focusing on making the most of their baseline car. But that doesn't mean some aren't coming. They had the fourth-most wind tunnel or CFD runs by virtue of finishing seventh in 2023, which means a slew of big updates will break cover at some point.
'It's a perfect match': Mike Krack discusses new partnership with Honda from 2026
And this will provide the basis for a real tilt next year. Alonso is at Aston Martin on a multi-year deal, so he'll at the very least be racing in green in 2024.
Both Team Principal Mike Krack and the chief of their performance arm, Martin Whitmarsh, have said they would love the Spaniard to be in the car for many years to come if he stays at this level, including in 2026 when Honda become the team's works engine partner, providing a Power Unit built to new regs for that season and beyond and, crucially, bespoke for Aston Martin's chassis.
ANALYSIS: How and why Honda and Aston Martin got together for 2026
Alonso doesn't think he'll have to wait until then to compete for the world championship, mind. He reckons he can do it beforehand, when running customer Mercedes power. Out of nowhere, the pursuit of a third world championship – one most in the F1 paddock believe his outrageous talent deserves – is back on..
It's a tantalising prospect not just for Aston Martin but also for F1. Alonso at his best in a good car is good for everyone and, while he would turn 45 during the 2026 season should he sign up to stay, age is just a number.
If he's still here, it's because he's good enough to be. And that means it's not just a third title that's possible – almost two decades since his last – it could be more. What a story that would be.