Le Mans sees us hit a mega milestone, so we thought we'd take a short trip down memory lane to see how our sport has evolved
If you were to travel from the Isle of Man to Le Mans by motorcycle, you'd clock just over 1000 kilometres from one world-famous motorsport venue to the other. It's apt then that after the Isle of Man TT hosted the first Motorcycle Grand Prix back in 1949, Le Mans and the French GP will host the 1000th Grand Prix. And what a journey it's been in the 999 GPs between then and now.
Ahead of the 1000th GP that takes place at this weekend's SHARK Grand Prix de France, we thought we'd take a brief look at how our beautiful sport has evolved between 1949 and 2023.

1000 Grands Prix: Legends making history 05/05/2023
In 1949, the Fédération Internationale de Motocyclisme (FIM) was born and our story began with 125cc, 250cc, 350cc and 500cc motorcycle classes, while 600cc sidecars helped form the inaugural World Championship too.
Britain's Leslie Graham became the first 500cc World Champion riding a British-built AJC machine, but it was soon another European country that would stamp its early authority in Grand Prix Motorcycle Racing.
Between 1949 and 1974, Italian manufacturers MV Agusta and Gilera dominated the 500cc class. MotoGP™ Legends such as Geoff Duke, John Surtees, Giacomo Agostini, Phil Read and Mike Hailwood won their premier class titles on the aforementioned machines before 1975 saw Agostini notch up his eighth 500cc crown on a Yamaha.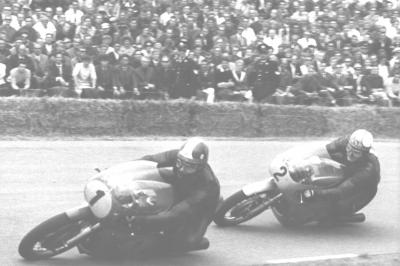 Rise of the Japanese manufacturers
1966 was the first year a Japanese manufacturer won a premier class race. Thanks to Jim Redman, Honda achieved that feat at Hockenheim, while Yamaha won the Constructors' title for the first time in 1974.
From 1975 onwards, Honda, Suzuki and Yamaha began to dominate the premier class. Suzuki and Yamaha shared the glory between 1975 and 1982 before Freddie Spencer handed Honda their debut 500cc title in 1983.
American and Australian riders stamp their mark
Kenny Roberts led the way for some American greats to stamp their mark on Grand Prix history. Roberts won the 1978, 1979 and 1980 500cc World Championships with Yamaha, before Spencer and Eddie Lawson shared the titles between 1983 and 1986.
Wayne Gardner made history for Australia in the 1987 500cc World Championship before Lawson (1988 and 1989) and Wayne Rainey (1990, 1991 and 1992) put America firmly back on top. Kevin Schwantz added his name to the list when he claimed the 1993 500cc title, as Australia's Mick Doohan entered the arena.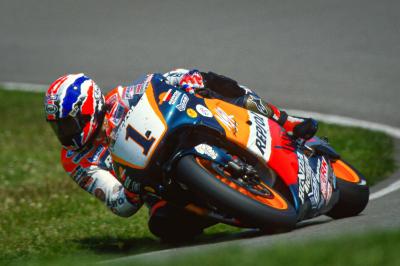 Doohan went on to win every 500cc title between 1994 and 1998 ahead of Alex Crivelle ending the American/Australian dominance by putting Spain on the Grand Prix map in 1999. Kenny Roberts Jr handed America their penultimate premier class title to date in 2000, as a rising Italian star named Valentino Rossi then became Italy's first 500cc World Champion since Franco Uncini in 2001. 
In 2002, a new era of Grand Prix motorcycle racing dawned. MotoGP™ replaced the 500cc class as four-stroke machines were re-introduced to the top tier of motorcycle racing, as the 2003 Czech GP signalled the end of two-stroke bikes competing in MotoGP™.
The first four years of MotoGP™ racing belonged to Rossi. The #46 won the 2002 and 2003 titles with Honda, as a famous switch to Yamaha then saw Rossi claim the 2004 and 2005 titles. The late, great Nicky Hayden put himself, Honda and America on top of the Grand Prix world in 2006, before Australia were able to follow suit thanks to the brilliant rise of Casey Stoner. Oh, and that was Ducati's first MotoGP™ title triumph – and an Italian manufacturer's first premier class title win since 1974.
Rossi was back on top in 2008 and 2009, but a couple of incredible talents were quickly shaking up the pecking order. Namely, Spain's Jorge Lorenzo and Dani Pedrosa.
Rossi, Stoner, Lorenzo, and Pedrosa. Between 2007 and 2012, these four riders became widely recognised as 'The Aliens'. Across those six seasons, Stoner, Rossi and Lorenzo won two titles apiece, with Pedrosa finishing in the top three in five of those six campaigns.
However, Stoner announced he was retiring at the end of 2012 at the age of 27. One 'Alien' was departing, but another was ready and waiting: Marc Marquez (Repsol Honda Team).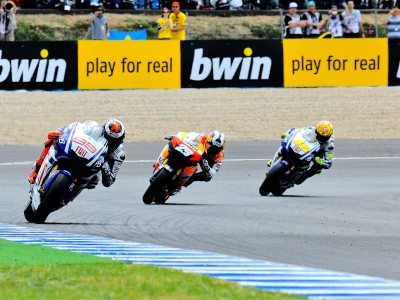 Moto2™, Moto3™ & 1000cc MotoGP™ engines introduced
2010 saw Moto2™ replace the 250cc class, as Honda became the sole four-stroke engine manufacturer in the new intermediate category. Then in 2012, Moto3™ was created to replace the 125cc class with the same concept – four-stroke engines replacing two-stroke.
In that same year, MotoGP™ raised the maximum engine capacity to 1000cc, while CRT (Claiming Rule Teams) were also introduced to the premier class. This allowed lower-budget Independent Teams to participate in MotoGP™.
2013-2019 – a Marc Marquez dominated era
The beginning of a Marc Marquez, Honda and Spain-dominated era. Marquez won the first of his six MotoGP™ titles as a rookie in 2013, and it was only the infamous 2015 title race between Yamaha's eventual winner Lorenzo and teammate Rossi that stopped Marquez from winning every title between 2013 and 2019.
This era of racing also saw the emergence of aerodynamics steadily becoming more and more prominent in MotoGP™, with Ducati acting as the pioneers. MotoGP™ also welcomes KTM as a brand-new, full-factory manufacturer in 2017.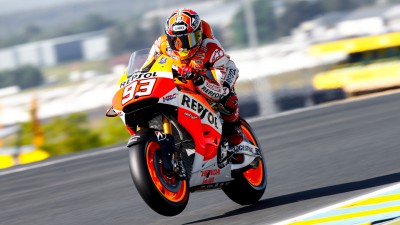 More races, more countries visited, more World Champions. Joan Mir (Repsol Honda Team), Fabio Quartararo (Monster Energy Yamaha MotoGP™) and Francesco Bagnaia (Ducati Lenovo Team) have been our last three World Champions, as records continue to be broken around the world. Five manufacturers, all of whom have won a MotoGP™ race, make up a fiercely competitive grid in 2023.
As we get set for the 1000th GP, it's great to remember the many people who have helped shape the sport into what it is today. Here's to the next 1000.