Jerez once again provided the drama, as we recap the biggest moments from Round 4 of the 2023 World Championship
It was a cracking return to Europe for MotoGP™, with spectators turning up in their droves the Circuito de Jerez – Angel Nieto for Round 4 of the 2023 World Championship. Those who did attend certainly weren't disappointed with thrilling action throughout the weekend as Brad Binder (Red Bull KTM Factory Racing) and Francesco Bagnaia (Ducati Lenovo Team) took Tissot Sprint and race honours, while Dani Pedrosa stole the hearts of fans during his wildcard appearance for KTM.
There's plenty to dissect from the weekend, so without further ado, these are your Talking Points from the Spanish Grand Prix.
"I've got to try, or I won't sleep at night"
Jerez and final corner overtakes are an iconic image in the sport, and we were only inches away from another on Sunday. Having led for the majority of the race, Brad Binder had slipped behind Pecco Bagnaia by the time the final lap rolled around. The South African kept the World Champion in his sights and was eyeing up what would have been another unforgettable moment at the Jorge Lorenzo corner.
"On the back straight, I thought I had it kind of dialled in. Off the back straight I closed in a lot, but then I didn't get the best drive. I was like, okay, if I do the last two rights really well, I've got to try or I won't sleep at night. But Pecco did a perfect second-to-last corner and braked in the centre of the track. If I would have gone, I would have had to go on the curb. It was fantastic. I had a great time. Super fun race. Me and Jack overtook each other a few times in the last corner. Pretty cool. It was nice riding Supermoto with the boys. Let's try again in Le Mans.

FREE: Orange takes on Red in thrilling Jerez finale 30/04/2023
"We're taking it to the big boys now!"
It was a big weekend for KTM in Jerez, with a Sprint win and double podium confirming the early season progress they've made. For Jack Miller, who traded Ducati red for KTM orange during the off-season, and the Aussie is already reaping the rewards. Post-race, Miller couldn't hold in his delight at his team's ability to challenge the status quo.
"We were able to put on a bit of a show there. It's awesome for the team. It's awesome for the guys at home that have been working so hard over these last couple of months to build the bike we've got. We're taking it to the big boys now and it feels really great.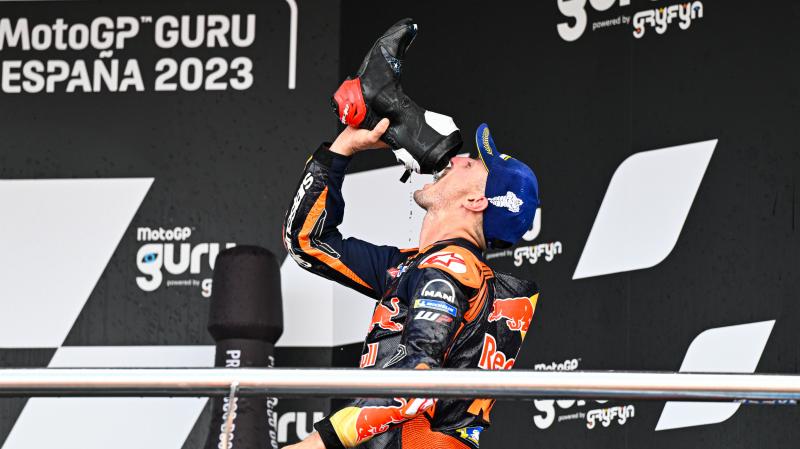 Miller's message to the doubters: "Ha. Where's the KTM now?" 30/04/2023
"He just wanted to pass me one more time to rub it in"
It's fair to say that some feathers were ruffled in the podium and victory battle in the south of Spain, with an aggressive Bagnaia move drawing the ire of Miller. The Italian was subsequently penalised for it, having to drop one place. Both riders offered up their version of events post-race.
Bagnaia: "I don't want to say too much on the penalty. I just want to say that I accept it, but in the future we need consistency. So if today I take this penalty for what I did, that for me wasn't so risky, but if considering other touches we see already this year, I just want consistency and if I will see it, I accept it."
Miller: "It was one of those ones. I wasn't expecting it. I didn't know he was coming. We've seen countless incidents like that at that corner. Generally, most blokes have ended up high-siding, or all three have ended up high-siding if we look back to Dani and Jorge and Dovi down there. I saw him at the last round and kind of stood it up.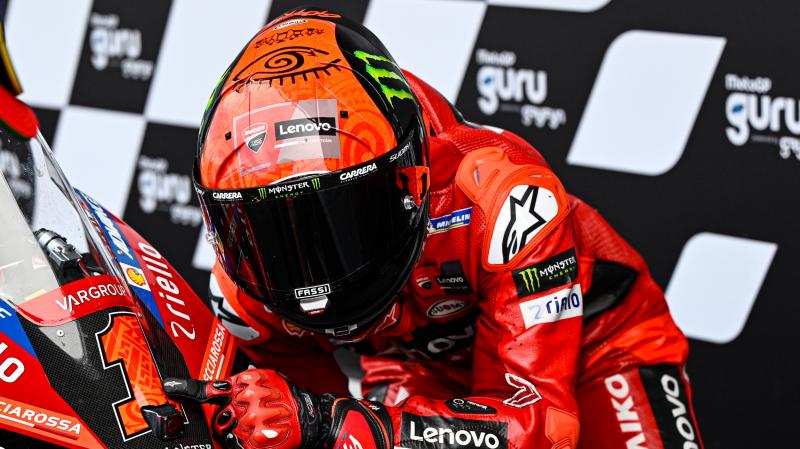 Bagnaia: "That was for me, for my ego" 30/04/2023
"Of course, my frustration, as you could see, but I got back to work. I immediately had to pass Jorge back at turn eight and then set to chasing Pecco down. Then honestly I thought his bike broke down or something when he peeled off at the inside of turn one. He just wanted to pass me one more time to rub it in."
"It's clearly not a penalty"
While on the topic of penalties, Fabio Quartararo (Monster Energy Yamaha MotoGP™) encountered the wrath of the Stewards and was slapped with a Long Lap penalty, something which he had to do twice, for his role in the crash which saw the Spanish GP red-flagged on Lap 1. Suffice it to say, the Frenchman and Yamaha didn't agree with the decision.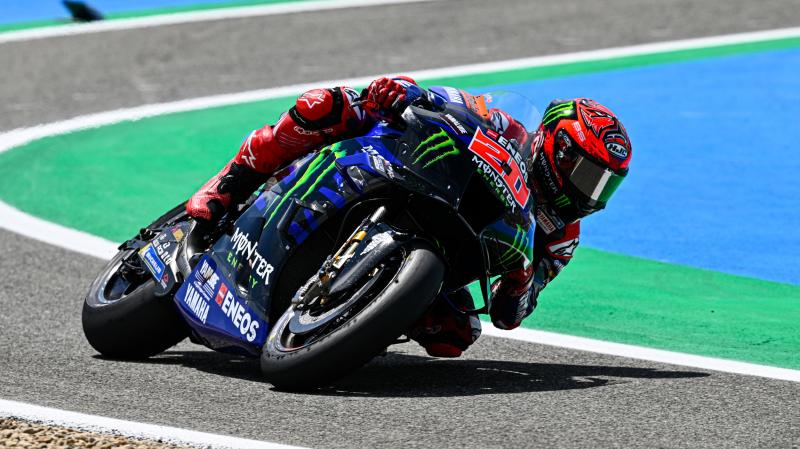 "Astonished" – Yamaha boss baffled by Quartararo penalty 30/04/2023
Quartararo: "Not clear explanation was said. From our side, I think we don't see anything strange and I think it's clearly not a penalty, but you know is the past – and I make it twice!"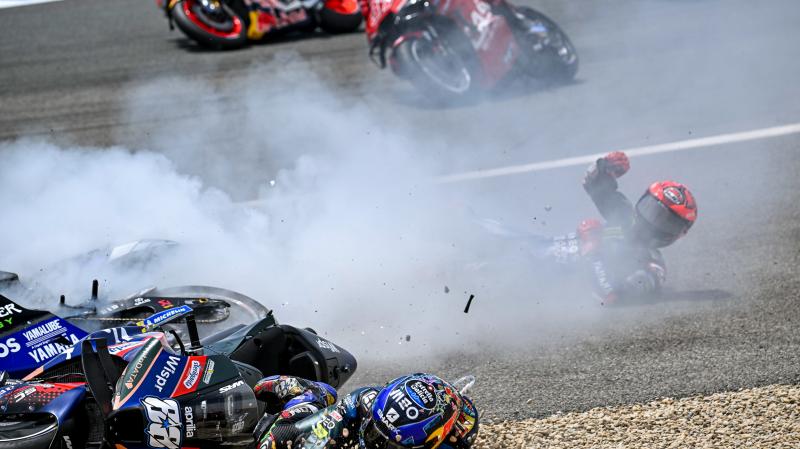 Quartararo: "There's no reason to have a penalty" 30/04/2023
KTM Wildcard Dani Pedrosa received a rapturous welcome back to track action from the home crowd, with 'The Little Samurai' admitting that he was almost overwhelmed by the occasion.
"I really enjoyed that lap. And at one point, we stopped there and they interviewed me a little, and I was about to cry! At that moment, I got emotional. And not, only because of the crowd, which was full, packed and everyone was cheering my name. But also, the riders, I was so surprised. They were so cool and they jumped into the party and cheered for me also! So it was great."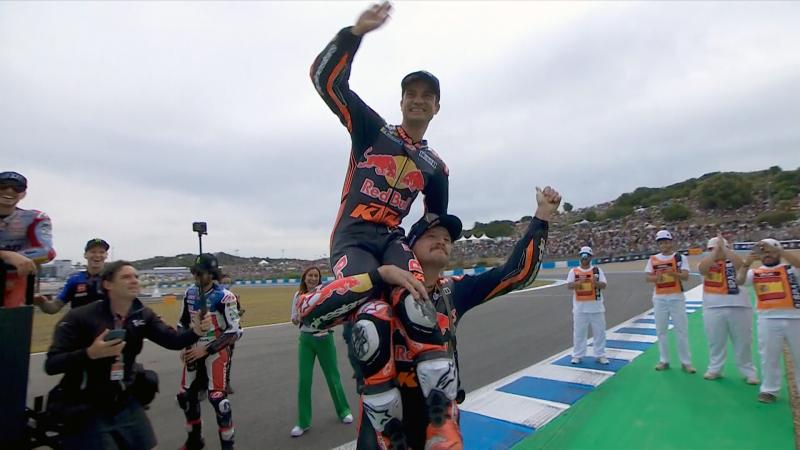 WATCH: "OHH DANI PEDROSA!" – The Jerez love affair continues 30/04/2023
However, being the professional that he is, Pedrosa put in a stellar weekend to claim sixth in the Sprint and seventh in Sunday's race, while he also managed a little bit of corporate espionage over the weekend as he managed to follow some of his competitors on track!
"I did follow a few bikes, a few different bikes, these days."
"At 6:30 in the morning, it was already full!"
As MotoGP™ returned to Europe, it was welcomed back with open arms by fans. In fact, 163,479 filled the grandstands over the three days in Jerez, where party mode was engaged, much to the delight of a snoozing Alex Marquez (Gresini Racing MotoGP™).
"We have come back in that mode. It's true that we have the Covid situation in the middle, we have many things that I think stopped it a little bit from the fan's perspective because the people didn't come to the tracks, so it's more difficult to follow the races, and I think the people lost a little bit the way to follow the races. But it was really nice to see the crowd, at 6:30 in the morning, it was already full. I was sleeping at 6:30 in the morning!"
"We have to improve the system"
Unfortunately, it wasn't a party for everybody in Jerez. Aprilia have come on leaps and bounds in recent years and they have produced a very competitive package for 2023, but unfortunately for both Aleix Espargaro and Maverick Viñales, they have encountered major struggles with race starts.
Starting on pole for two Sprint starts and two Sunday race starts, Espargaro was unable to compete with his rivals off the line and found himself going backwards on each occasion, which is certainly cause for concern within the Noale factory.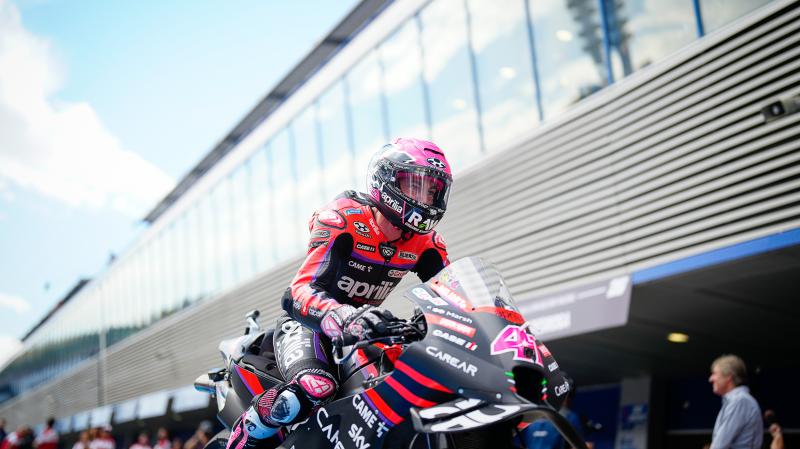 "I can't be happy" – What went wrong for poleman Espargaro? 30/04/2023
"I cannot do better practices. The pole position is the best thing I could. So even though I did four starts in the 1st place and I lost four places in all races. I tried to start with both feet on the ground, one foot on the ground. We increased the power on second gear today and it was even worse than yesterday because the bike wheelied.
"We have to improve the system sincerely, it's a shame because I'm sure that if today I hadn't lost the positions and I started the first lap in first or second place, I could have fought for the victory or second place. But once they overtook me, it was over for me."