The fallout from a dramatic Americas GP continues, and you can catch up on some of the biggest stories here!
Round 3 of the 2023 MotoGP™ World Championship certainly brought the drama as a Texas thriller unfolded at the Circuit of the Americas. Alex Rins (LCR Honda Castrol) held his nerve to take a brilliant victory, with Luca Marini (Mooney VR46 Racing Team) and Fabio Quartararo (Monster Energy Yamaha MotoGP™) completing the podium.
There were certainly no shorrtgae of hot topics from the weekend, and you can take a look at some of the biggest Talking Points from the weekend below!
"Thanks for the pressure"
Not only was Rins' COTA win LCR's first since Cal Crutchlow took the chequered flag first at the 2018 Argentina GP, but it also delivered a century of Grand Prix paddock podiums to Lucio Cecchinello's charges.
"It was amazing, when I was in the LCR workshop this winter, Lucio put a video on in the museum and said we have 99 podiums in our team, and I said, 'thanks for the pressure!' We did it. I'm so happy for the win, and also happy about the weekend, a really good weekend"

"Light at the end of the tunnel": LCR toast Rins & a century 16/04/2023
"If I shave my head, she'll change the locks"
Having taken a Tissot Sprint podium on Saturday, there were some head shaving shenanigans during the celebrations as Rins brought out the clippers on one of his mechanics. Naturally, after his Sunday win, it was double trouble for his team as two poor "volunteers" had their mops chopped. However, Rins himself wasn't up to the challenge as he knew he'd have some serious questions to answer once he returned home.
"My fiancee, when I woke up this morning, I had a message saying if I shave my head, she'll change the locks. We have our wedding in a couple of months and it's a day to remember so better not!"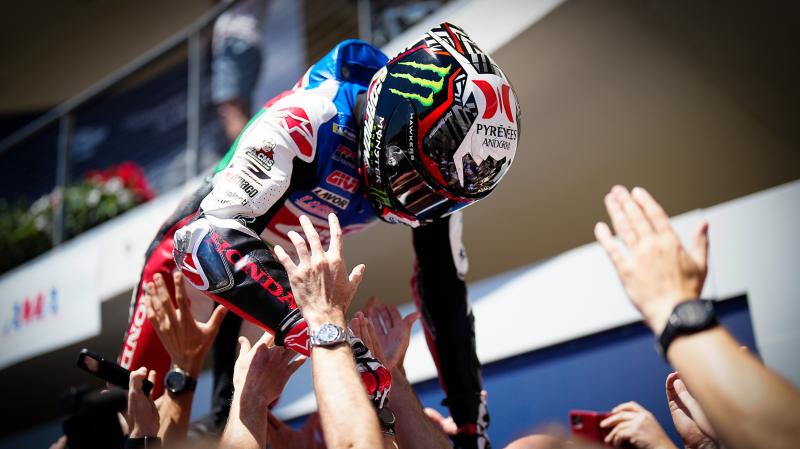 "We did an unbelievable pace" – Rins holds nerve for glory 16/04/2023
"Toprak needs more time to be fast… and right now we are focused on Franco"
It's still early days in the 2023 Championship, but speculation is already rife regarding the identity of Fabio Quartararo's future teammate on the factory Yamaha. 2021 WorldSBK Champion Toprak Razgatlıoğlu recently completed a private test aboard the YZR-M1 and rumours are swirling that he may be in line to replace Franco Morbidelli from next season, but he isn't the only name linked to the seat. Speaking during the Americas GP, Yamaha Motorsport Managing Director Lin Jarvis discussed the possibility.
"We want to do one more test at the end of the year, but it all depends on the program. Our big problem is that we only have two bikes, so we have to focus on working on that to be competitive, and in the end, what Toprak needs is more time to be fast. So it is difficult for us. But now we are focused on Franco and that he can keep the speed of Argentina, so we don't know. We need time to understand things well and decide what happens in the future".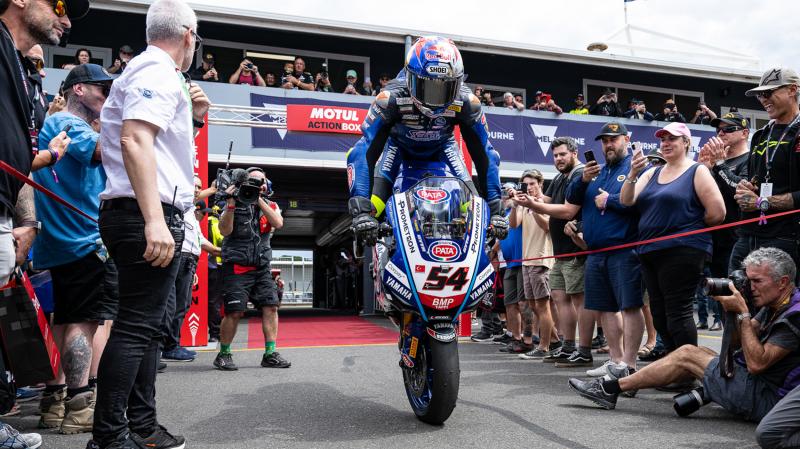 Jarvis talks Toprak, Morbidelli and 2024 factory seat future 13/04/2023
Could Morbidelli be replaced by another rider from the current grid?
"Yes, it could be, but it is too early to say. At the moment, we only wanted to test with Toprak, and we saw that he needs more time on the bike. Now we are focused on Franky".
Jorge Martin is one of the names linked to Yamaha, and Jarvis sung the praises of the current Prima Pramac Rider but refused to be drawn in to say if talks had opened with the Spaniard. However, he did reveal that a rough timeline for a decision is in place.
"He is very good, but there are many good riders on the grid. He already proved that in other categories, but this is just speculation. We are focused on 'Franky', and we will try to help him to be able to do things like in Argentina so he can be fast. We are focused on him now".
"I think everyone will think about things more calmly before the summer break. We haven't set a deadline for Morbidelli, but we will talk before the summer break".
"I'm very angry, but not with myself"
Reigning World Champion Pecco Bagnaia (Ducati Lenovo Team) crashed out of Sunday's event from a promising position for the second weekend running, and the Italian cut a visibly frustrated figure post-race. At a loss to explain just how he went down, Bagnaia admits that it is cause for concern.
"I'm very angry, not with myself, because I'm 100% sure that wasn't my fault today. In Argentina I recognise that I was a bit on the limit for sure, but today, no. Today something happened, but not in terms of a cold tyre, the wind. Something we have to understand from the bike.
"We have to understand that we have to maybe prefer a more unstable bike. But maybe I prefer to go one 10th slower, but understand better everything, because right now it's very difficult because I feel unbeatable. I feel I can do everything. Like today I was going fast but without taking any risk without doing crazy things, I was entering very calm in corner two, because I was knowing that it was more slippery. And I still crashed.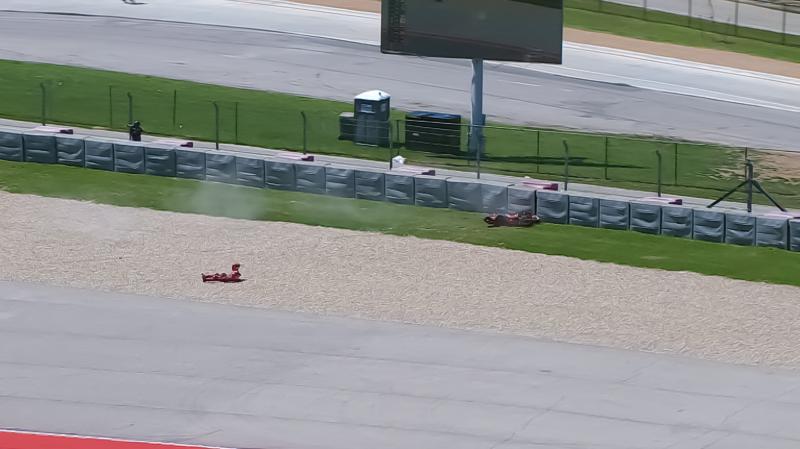 "45 points lost in two weeks…it's useless" – Bagnaia 16/04/2023
"In the last 6 or 7 laps, I was trying to survive!"
Having reached the pinnacle of his MotoGP™ career to date two weeks ago in Argentina, Austin saw Marco Bezzecchi (Mooney VR46 Racing Team) come back down to earth with a P6 finish. Despite it not being his most dazzling on track display, Bez extended his Championship advantage due to Bagnaia's crash, admitting that he was just pleased to see the chequered flag after some late struggles.
"I knew I couldn't expect a win from myself everytime. I pushed maybe two or three laps to early and then I struggled with the tyre wear on the front. In the last 6 or 7 laps, I was just trying to survive and then Miguel [Oliveira] and Maverick [Viñales] passed me and I couldn't stay with them."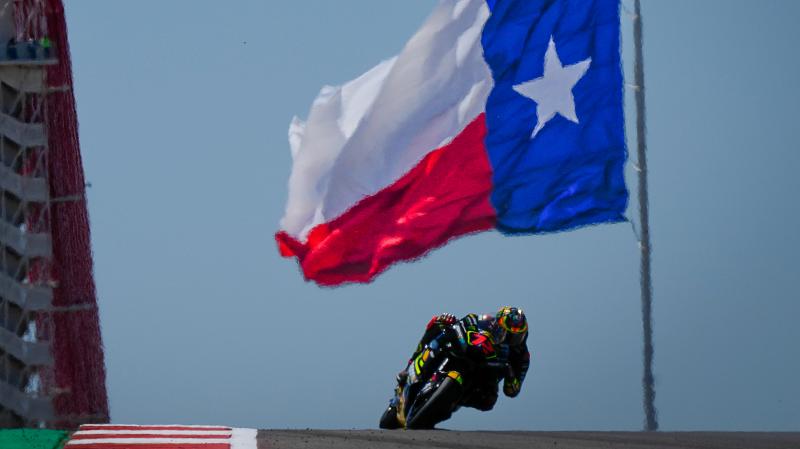 Bezzecchi's reacts to extending title lead: "It's strange" 16/04/2023
"They need to solve it. It's not the first time it's happened"
Elsewhere, Aleix Espargaro recorded his first DNF of the season, crashing out in the very early stages of the Americas GP, leaving the Aprilia rider unhappy and searching for answers.
" I was P3 in Turn 1, and then I accelerated I felt that the rear ride-height device stays low, I did all the first part of the track with the ride-height device low, and when I touched the throttle in Turn 11 with the bike low, I lost the front. Nothing more I can say. Like Raul had the same problem today.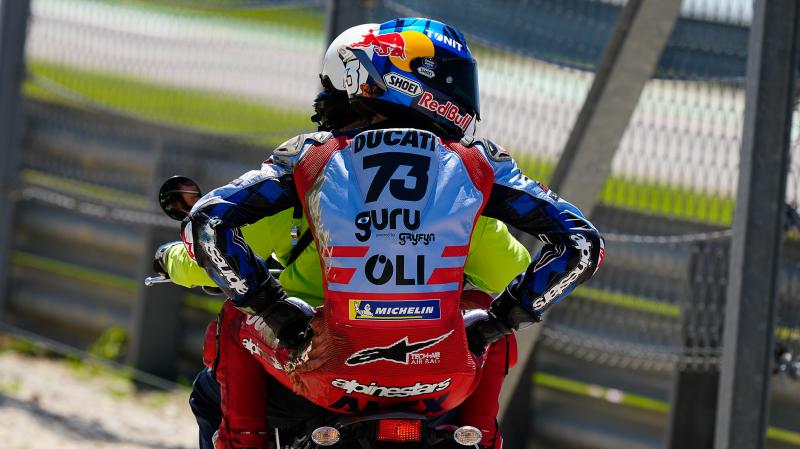 Where did it go wrong for riders who crashed and DNF'd? 16/04/2023
"They need to solve it. It's not the first time it happened to us. Last year it never happened at all, not even a single time. But we changed a little bit this part from the 2022 to the 2023 spec bike, and the '22 still has it, and the '23 bike, again, we had this preseason, but we didn't have it in the first races, but we had it today. Normally it happens when it's super hot, but yesterday it didn't happen, so we are not super in control of when and how."