A new design, a new team set-up, MotoGP™ Sprint, updated mini-leagues and more – get involved ahead of Round 1
With Round 1 of the season very nearly here, that means it's time to welcome back MotoGP™ Fantasy for another year. And in 2023, there are some updates that are going to make it bigger and better than ever.
So what's new for 2023?
The game has had a classy facelift for the new season, while you'll also now have to select a 'Team' as well as your usual two 'Gold' and 'Silver' riders, plus your 'Manufacturer' with your 15 million starting budget.

PLAY NOW: MotoGP™ Fantasy is back! 21/03/2023
MotoGP™ Sprint points will be scored in Fantasy this year, and just like the real thing, points will be halved compared to Sunday's Grand Prix. You'll have to lock in your teams before MotoGP™ Q1 begins, and after that, you won't be able to change anything again until the Grand Prix has ended.
There will be some more global mini-leagues for you to enjoy too. Any player will be able to join a number of new leagues that will be coming up during the season and be in with a chance of winning some great prizes.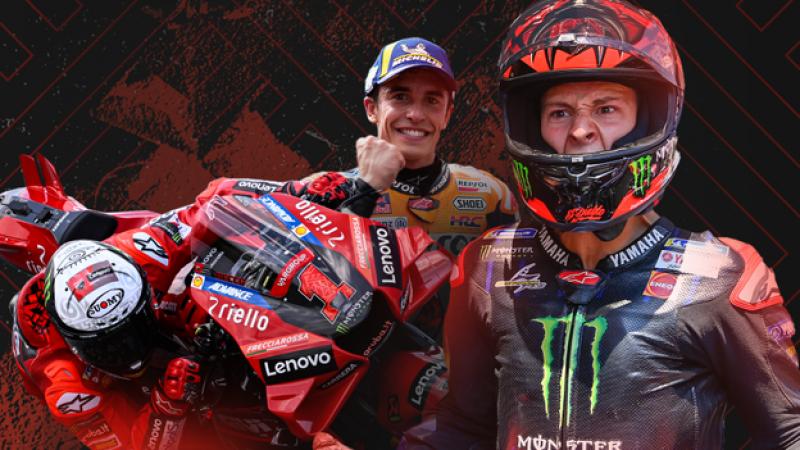 More thrill, more action… more MotoGP™ than ever 09/03/2023
On the topic of prizes, there will be a weekly prize in 2023 for the person who scores the highest points tally – two grandstand tickets to a GP of your choice. The overall prizes, which will be given out to the top three at the end of the season are:
– 1st place: Francesco Bagnaia replica helmet signed by the 2022 World Champion
– 2nd place: Lenovo laptop and the MotoGP™23 videogame
– 3rd place: Tissot watch
So get yourselves set in the lead-up to the Portuguese GP. Create your mini-leagues between friends, family and colleagues, and get deciding who you want in your first 2023 MotoGP™ Fantasy draft.