From some extremely quick cars starting out of position to Fernando Alonso chasing a first win in a decade, and from a five-team fight for the podium to a mixed-up midfield, we've picked out some key areas to keep an eye on when the lights go out at the Jeddah Corniche Circuit…
1. Verstappen and Leclerc out of position
Heading into qualifying, many observers had already assigned pole position to Max Verstappen, such was the pace advantage he had shown in FP3. He was quickest in all three practice sessions but it was earlier on Saturday when he had gone nearly a second clear of the first non-Red Bull car.
So when he returned to the pits with an issue at the start of Q2 and was unable to set a lap time due to a driveshaft failure, it came as a major surprise. Verstappen will start from 15th place, and he will be joined outside the top ten by the driver who originally qualified just over 0.15s adrift of pole position.
Charles Leclerc went into the weekend knowing he would have a grid penalty due to a power unit component change, with his top two qualifying position dropping him to 12th for the start of the race.
READ MORE: Perez storms to pole for Saudi Arabian GP as Verstappen suffers dramatic Q2 exit
Both cars are far quicker than their grid positions suggest, and Leclerc says he will do everything the can to put on a show on Sunday. But it's Verstappen who is targeting the podium from his starting spot given the pace he has shown so far.
Starting in the pack is fraught with danger, however, with Verstappen needing to avoid getting caught up in any incidents and potentially taking a more conservative approach in the opening laps. As qualifying showed, there's no guarantees however quick your car is.
2023 Saudi Arabian GP Qualifying: Max Verstappen out of qualifying in Q2 after car problem at Jeddah
2. Can Alonso threaten a win?
Verstappen and Leclerc's issues have opened the door to a number of drivers, not least Fernando Alonso who will start on the front row alongside Sergio Perez. While Perez will look to erase the memory of a year ago – when he started on pole for the first time but was hurt by a badly-timed Safety Car after making his first pit stop – Alonso is out to stop him.
The Red Bull is the quicker of the two cars and Alonso knows he is the underdog, but the Aston Martin's pace is still strong enough to put up a fight if he can take the lead off the line – and he's been known for some rapid launches in the past.
READ MORE: Jeddah pole-sitter Perez hoping to keep 'lion' Alonso at bay as he predicts how much Verstappen can recover from P15
Speaking of the past, it is 10 years since Alonso last won a race, when he secured victory in the 2013 Spanish Grand Prix while driving for Ferrari, and although he started on the front row in Canada for Alpine last year he hasn't had a car this competitive for a long time to try and secure that 33rd victory.
The opening phase of the race will be crucial to his hopes, as well the progress of Verstappen and Leclerc, but it would be some story if Alonso becomes the oldest winner in F1 since Jack Brabham in 1970, who took victory under than a month before his 44th birthday.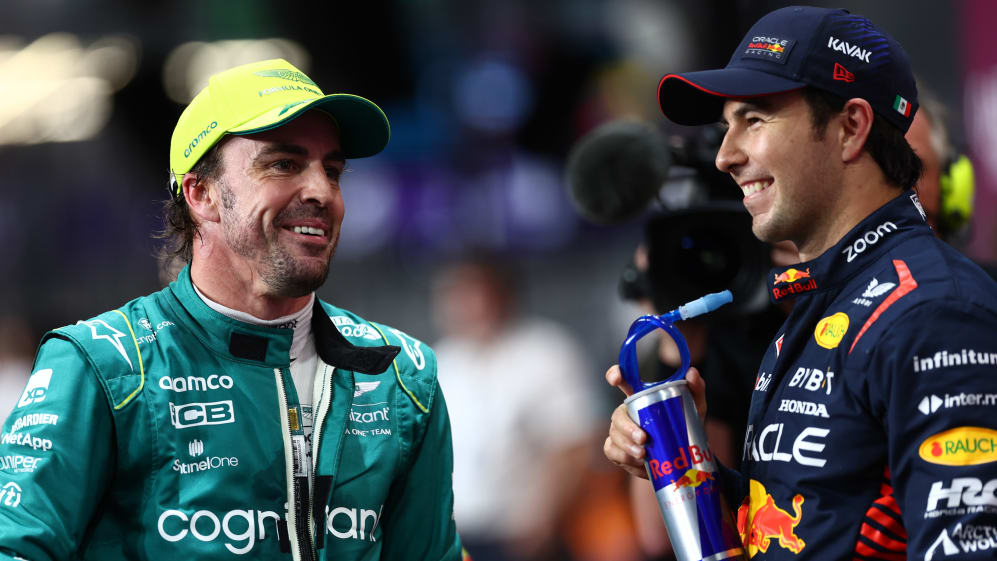 3. A five-team podium fight
We've spoken about Leclerc already, but there was a telling quote from him on Saturday night when he stated Ferrari are "more or less in the same race pace of Alpine, Mercedes and Aston Martin so it should be a good fight".
Granted, Red Bull will be eyeing the top step and Verstappen thinks he can get into the top three too, but that's five teams who all think that they can get themselves onto the podium. Alpine are the newest addition to that group after a strong weekend so far, and with Esteban Ocon starting from sixth on the grid alongside Lance Stroll.
READ MORE: 'I thought it was over' admits Ocon as he describes 'pedal to metal' Q3 lap at Jeddah
Pierre Gasly also starts in the top 10 but perhaps the biggest battle is going to be between George Russell and Carlos Sainz, lining up alongside each other on row two. Both have similar race pace performance and Russell is encouraged by how comfortable with the car he feels, but in the same way Alonso could hold up Perez if he gets ahead at the start, the Mercedes or Ferrari could do the same to the Spaniard in a similar scenario.
It's so competitive between them all that there's every chance three of the teams will be left disappointed come the chequered flag if they are not picking up a trophy.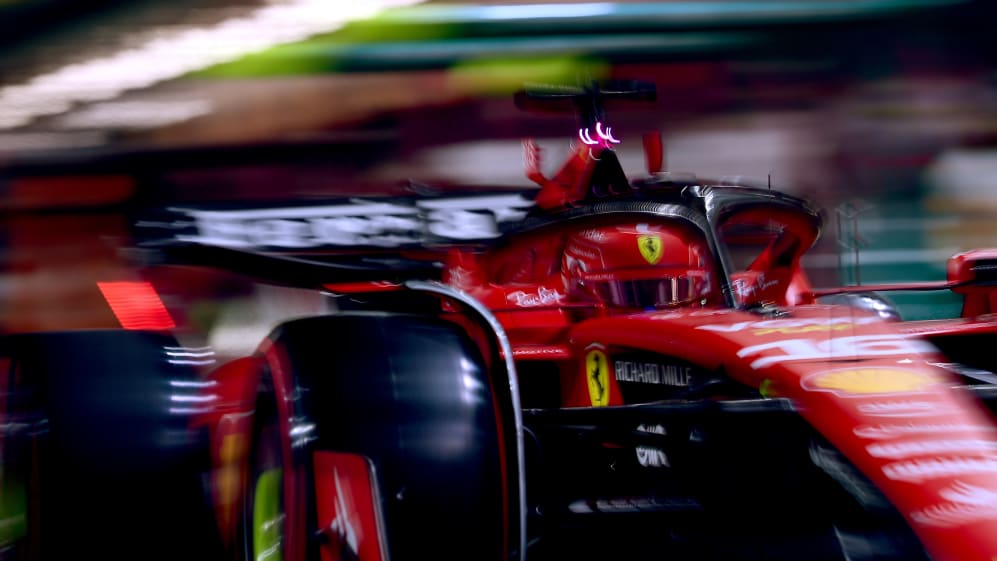 4. Will there be points on the table for the rest?
Something we highlighted in Bahrain continues to be the case in Saudi Arabia, as there is no clear slowest team in the field and the "midfield" now constitutes at least half of the grid. McLaren hope to join the fight further forward in time and after a slow start to the season they had an encouraging Saturday as Oscar Piastri reached Q3 and will start from eighth.
For Piastri to pick up his first points, he's likely going to need to drive a defensive race as Verstappen and Leclerc could quickly demote him to tenth, and Gasly also has strong long run pace starting behind him.
READ MORE: Piastri says maiden Q3 in Jeddah 'wasn't expected' as Norris shoulders blame for Q1 barrier strike
Haas have also been working on their race performance and start with Nico Hulkenberg in tenth, while Williams scored in the season opener and were disappointed not to have a car escape Q1 here.
The problem they all face is the fact that if the five teams with podium hopes all have clean races, then they could hoover up all of the points despite how competitive the field is. But then a clean race has yet to be seen in Jeddah…
5. Safety Cars and DRS battles
The Jeddah Corniche Circuit is a massive test for the drivers, and one they relish. It's high speed, high adrenaline, but high risk. The proximity of the walls means tiny mistakes get punished, and there are some narrow sections that can trigger fierce battles.
On the race's debut on the calendar there were two red flag periods, while last year saw both a Safety Car and Virtual Safety Car interruption, and they can all mix up the order due to the impact on strategy.
Not that the order has needed mixing up too much in the past either, as the layout of the circuit and long DRS sections have allowed long fights to develop, with drivers able to overtake each other regularly but not break away if they don't have a major pace advantage.
HIGHLIGHTS: Relive the action from a dramatic qualifying session in Jeddah as Perez seals his second career pole