Was F1 more exciting back in the old days, are Mercedes on the right track, and why do some teams struggle with tyres more than others? These are just some of the questions you've asked this week. F1 Presenter Will Buxton, Hall of Fame journalist David Tremayne and more of our experts provide the answers in F1 Inbox.
Q: Were F1 races generally better and more entertaining in the old days versus now? (Via @PlayGamesMovies on Twitter)
A: (Will Buxton, F1 TV Presenter) It's always tough to compare eras. It's why the argument of who truly is the G.O.A.T. (Greatest of All Time) can probably never be answered.
WATCH: F1 for beginners – Everything you need to know about F1
Looking back usually means we can't help but view the past with rose-tinted glasses, because we'll naturally cherry pick the highlights as those moments that stood out and left an impression.
Of course, with fewer races there was a higher statistical probability of one being excellent but looking back over the time I've been reporting on the sport or even to my childhood there were races which were won by a full lap.
Thirty years ago Damon Hill won the Australian GP by two laps. Qualifying would see whole seconds splitting the top two rows. I'd argue the field has perhaps never been closer – but beyond that, to enjoy the sport in the moment.
Q: Aston Martin could be said to have lived up to expectations in the first race, but it's only the first race. What do you think, will the green team maintain good results in the future? (Via @JosipLisicak on Twitter)
A: (Will Buxton, F1 TV Presenter) For Aston Martin to have leapt from seventh to even fifth would have been a story. But to be third, even second fastest is a huge achievement.
What I think is even more exciting is that as the seventh-best team last year, and with Red Bull having even tighter restrictions placed on them in terms of development, the green team's ability to innovate within the 2023 calendar year is high, and so the prospect of them maintaining their level of performance and even increasing it is high.
READ MORE: 'This is just the beginning' – Alonso warns there is 'more to come' from himself and Aston Martin after Bahrain podium
2023 Bahrain Grand Prix: The key moves that saw Alonso race to a podium finish on Aston Martin debut
Q: Do you think Mercedes was stubborn and even a little naive to continue with the same concept of the car they had last year? Knowing there were certain design flaws with it and it was really only competitive a couple races. And this year is just a repeat of last? (Via @ToxicFrostbite4 on Twitter)
A: (Mark Hughes, Special Contributor) No, I don't think it's a case of being naive or stubborn. They felt that the problem with last year's car wasn't the basic concept but the limitations imposed on it by the mechanical aspects, the rear suspension in particular, which was at the heart of the car's bouncing problems.
So there was plenty of reason to believe that with that aspect fixed, the new car would be good. And, compared to the old one, it is: it doesn't bounce, it doesn't have to be run so high that it is too draggy, and it is significantly faster than the old car despite a regulation change that should have added 0.5s. In Bahrain, despite that regulation change, it lapped over 0.7s faster than last year's car.
What the team, in isolation, had no way of knowing was that there would be even more gains to be made by teams with a different concept. The shortfall is in high-speed downforce and that's where Red Bull (and Aston Martin) have made big gains.
Q: If Mercedes got the 'zero sidepod' design wrong and they might be thinking of changing it in coming races, how will this affect the development for the rest of this season with managing the cost cap – and will they sacrifice this season for developing next year's W15? (Via @Ganeshsportsfan on Twitter)
A: (Mark Hughes, Special Contributor) Even a change in the sidepod design will only be a compromise fix for a car with hard points such as monocoque shape and radiator layout designed around a different concept.
We saw something similar with Aston Martin last year with its Barcelona upgrade, looking very different from the original car but still limited by the original's basic fixing points. Of course any update costs money and yes, if it's a corrective update rather than a developmental one, it will put a ceiling on how much further development potential can be accessed because of the cost cap.
READ MORE: 'One of the worst days in racing' – Wolff says Mercedes need to be 'radical' after Bahrain reality check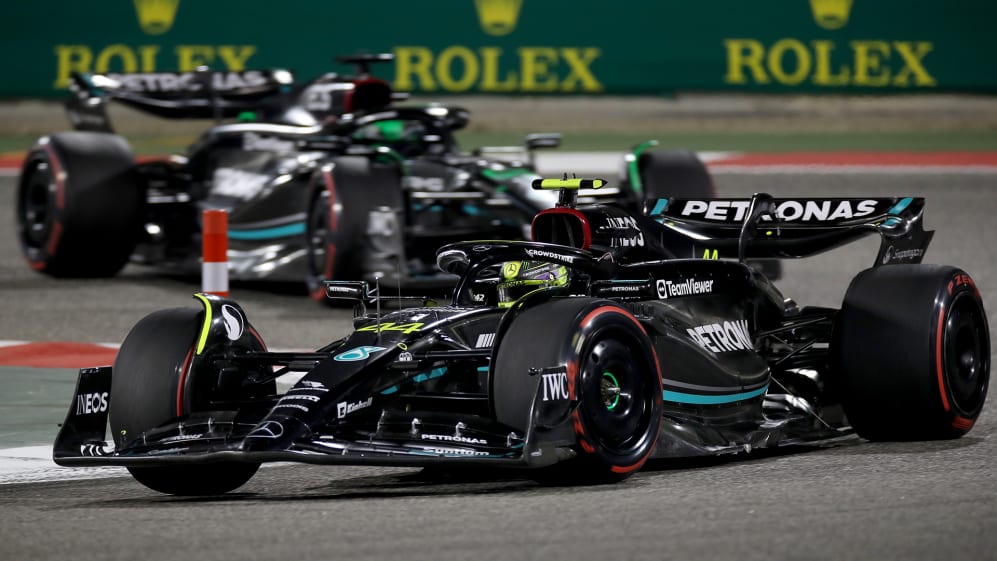 Q: Can Fernando Alonso be considered as one of the greats despite his statistics not being amongst the likes of Hamilton, Schumacher and even Senna? (Via @dystainak on Twitter)
A: (David Tremayne, Hall of Fame F1 journalist) Absolutely. The way I like to judge drivers' greatness takes into account many factors. Of course, there has to be a degree of success, though Stirling Moss, for instance, was always denied the title he deserved.
The really important thing is their speed and who they beat. Jim Clark won 25 races to Lewis Hamilton's 103, Michael Schumacher's 91 and Ayrton Senna's 41, for instance, and scored 'only' two titles, but would anyone ever dare suggest he isn't a great? Or Juan Manuel Fangio with 24 wins and five titles?
TREMAYNE: Aston Martin and Alonso's emergence is something we should all cheer
Fernando, also with two titles and 32 wins, was the man who ultimately vanquished Michael, and he is still capable today in the right machinery of racing with Lewis and Max Verstappen, the stand-outs of the current generation.
With better decision-making over the teams he drove for, his statistics would have been much better, though pure statistics should never be the sole yardstick of judgement.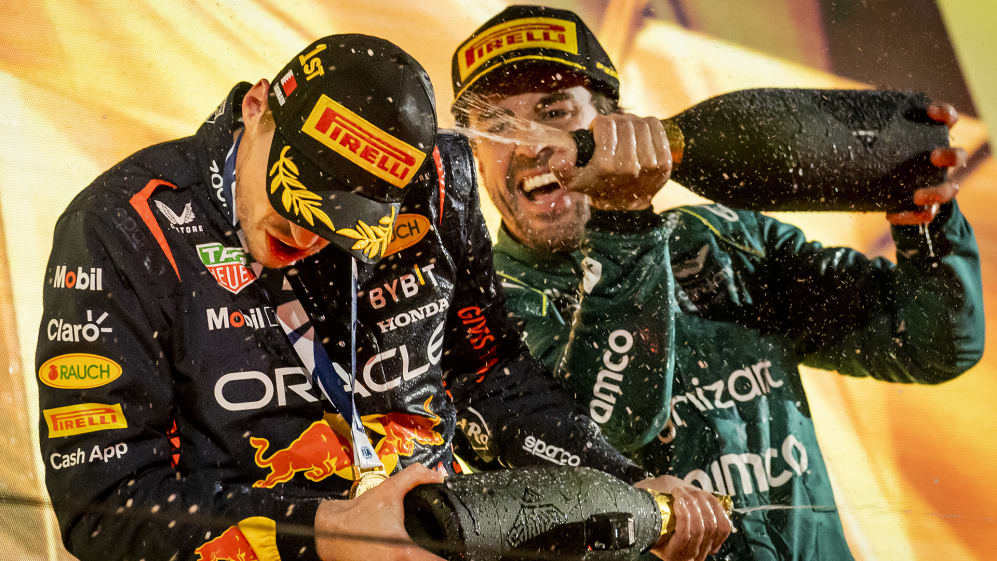 Q: Can you explain F1 tyres – if I'm correct, last year there were three different tyre compounds but this season there are five? Do they have to use all of them, or some over the others – how do teams determine this? (Via @totofds25 on Twitter)
A: (Samarth Kanal, F1.com Staff Writer) Last year, Pirelli had five different dry tyre compounds for use in F1, ranging from C1 to C5 – softest to hardest – plus the intermediates and wet tyres. This year, Pirelli have six different dry tyre compounds ranging from C0 to C5, as they've introduced a new C1 compound.
The tyre suppliers allocate three dry tyre compounds for use in every Grand Prix (plus intermediates and wets), with a set number of each. In Bahrain, they allocated two sets of the C1 (also called the hards), three sets of the C2 (mediums), and eight sets of the C3 (softs).
READ MORE: Pirelli confirm tyre choices for first three F1 races of 2023 as new compound comes into play
In dry conditions, teams have to use two dry tyre compounds in each race, but if it's wet they don't have to pit for another compound. Strategists look for the best way to use their tyres and when it's best to stop for tyres in order to maximise time on track and minimise time spent in the pits.
Q: Will Leclerc get an engine penalty after his retirement in Bahrain? (Via @TheBritishGuy5 on Twitter)
A: (Samarth Kanal, F1.com Staff Writer) Charles Leclerc took a new Control Electronics and Energy Store before the 2023 Bahrain Grand Prix, the first race of the season. Each driver is allowed just two of each of those parts before engine penalties kick in.
2023 Bahrain Grand Prix: Leclerc cries 'no power!' as he's forced out of the race from P3
With Leclerc using his second of each part, it's likely that if his team do choose to change either, they will change both.
Ferrari Team Principal Fred Vasseur didn't specifically say which of the Ferrari power unit's parts failed in Bahrain, but he did say that an "accessory" to the power unit was the culprit.
READ MORE: New Ferrari chief Vasseur to order 'full investigation' into Leclerc's DNF in Bahrain
So, we don't yet know if Leclerc will get an engine penalty after retiring in Bahrain – but he's the driver closest to taking a hit.
It would certainly be unusual if Ferrari put him at the back of the grid so early in the season at somewhere like Jeddah, but it wouldn't be the worst venue to do so, seeing as there's a long straight, where a new engine would certainly help his cause…
Got a question about F1 that you'd like answering? Drop us a line on Twitter using the hashtag #F1inbox and we'll answer a selection on F1.com