I've never thought of George Russell as a depressive kind of person. Far from it. He seems perennially upbeat, and has always handled whatever struggles he encountered at Williams and again at Mercedes with the unloved W13 last year with commendable enthusiasm.
But he is honest when it comes to sharing his feelings. And as a group of us gathered to leave Dubai bound for London Heathrow early on Monday morning, my pals at Sky Sports F1 all looked extremely discombobulated by his post-Bahrain GP suggestion that Red Bull could well win all 23 Grands Prix this season.
POWER RANKINGS: Who starts the year on top after the season opening Bahrain Grand Prix?
Some of us are old enough to recall other seasons where a team have come out of the traps with all guns blazing, apparently in possession of all the answers. Look how rocked everyone was by Jean-Pierre Jarier's speed in Argentina and Brazil with Tony Southgate's lovely Shadow DN5 in 1975.
Or how aghast everyone was by the speed and competence of the Ligier JS11, which dear old Jacques Laffite steered to victories at the same circuits when 1979 kicked off. Thirty years later, Jenson Button won six of the first seven races for Brawn. Look at any number of years when Mercedes dominated the early going in the turbo-hybrid era.
The Shadow never won a Grand Prix in 1975, despite being the fastest car and (thanks to UOP) one of the best financed, while according to legend, designer Gerard Ducarouge lost the Gitanes cigarette packet on which he was said to have noted the perfect set-up for the JS11 and the blue and white cars only won one more race and were beaten to that year's title by Jody Scheckter's Ferrari.
And life became much more of a struggle for Jenson as 2009 reached the one-third point, and he never won again that season after Red Bull put a fast RB5 at Sebastian Vettel's disposal and Lewis Hamilton got an improved McLaren.
TECH TUESDAY: How Red Bull cleverly interpreted the 2023 floor regulations to hit the ground running in Bahrain
And Mercedes? Okay, okay, what you saw in the first turbo-hybrid year was generally what you got up until 2021…
But while the manner of Red Bull's superb one-two on Sunday evening was indeed crushing, I refuse to believe this early that all hope of a three-way – perhaps even four-way? – fight might develop for the 2023 title. I always was a romantic idiot tilting at windmills…
But…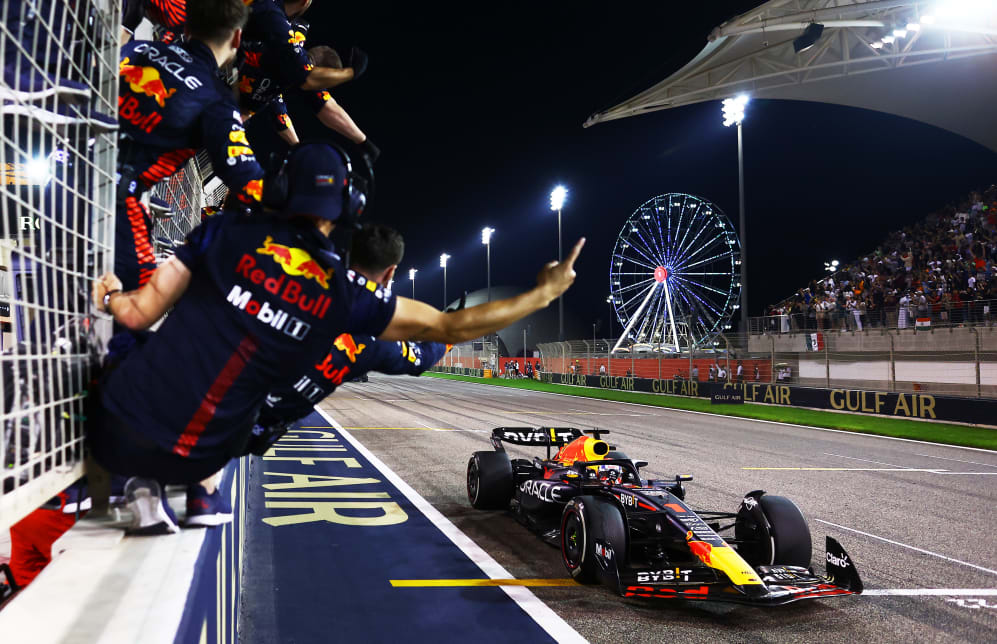 There was something that it's very important not to overlook in the collective doom and gloom surrounding so many people outside Red Bull. Two things, actually.
So let's start first with Fernando Alonso, and why the 2005 and '06 world champion continues to be so important to the F1 scene. Number one, he is driving at least as well as he did back in those far-distant days, which is remarkable given that he's 41 years old.
He's never been that good at choosing his next moves, and had to leave McLaren for Ferrari given the way he chose to play Spygate in 2007 (though Ron Dennis did later persuade him to return in their final Honda phase). His relationship with Ferrari thereafter was not overly blessed, any more than that with Alpine after his recent comeback. But with Aston Martin, he may have chosen his move perfectly, and might just prove consistently to be the act that brings the most to the table after Christian Horner's boys.
PALMER: A win for Alonso in 2023? I wouldn't bet against it after his Bahrain masterclass
His battles with the still-troubled Mercedes of George Russell and Lewis Hamilton, and later with fellow countryman Carlos Sainz's Ferrari, demonstrated convincingly on Sunday that if he is given the equipment, he can still mix it. His podium finish confirmed that only the Red Bull is a better race car right now, but also that he can still pull off mesmerising moves without the need to steal a rival's racing room.
Watching him with Lewis was like watching the best two heavyweight boxers giving and taking punishment, without ever resorting to something underhand.
2023 Bahrain Grand Prix: Alonso slips past Hamilton after thrilling battle between old rivals
It should also be thoroughly applauded that, in Bahrain at least, Aston Martin have made a huge leap forward. We are all only too well aware of the caveats that govern testing – fuel weights, engine modes, strategy, blah, blah – but as early as Friday when Fernando was second to Sergio Perez in FP1 and fastest ahead of Max in FP2 and FP3, we could see that Aston's strong form in the three-day pre-race test had been no chimaera.
So F1 should be very grateful to Lawrence Stroll right now. The ebullient Canadian billionaire and his investors have been shovelling funding into their hardware, as regular trips past the site of their new factory opposite Silverstone attest.
READ MORE: Krack says Bahrain podium wasn't in his dreams as he ponders what's next for Aston Martin
Lawrence expected this kind of form last year and was angrily disappointed. He doesn't like losing, and I guess I wouldn't either if I had invested so much. But the new AMR23 is the product of collaboration between a technical team led by former Red Bull aero guru Dan Fallows, whose prolonged period of 'gardening leave' after quitting the champion team has finally expired, McLaren and Toro Rosso refugee Luca Furbatto and Eric Blandin, whose past embraces positions as aero chief at both Ferrari and Mercedes.
Personally, I was delighted to see what Aston Martin have done so far because it really does show that you can make progress, even in this budget cap era (this year it's down to $135m).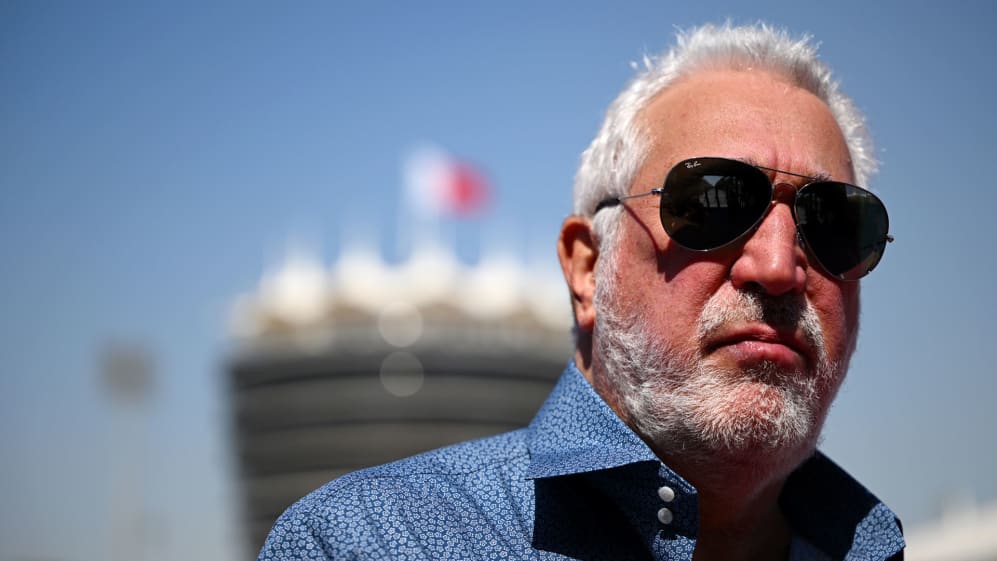 Recently, whenever the rules have changed it leads to new dominance – see Mercedes in 2014 with the introduction of the turbo-hybrids, then Red Bull in 2021 when the floors were trimmed, and again with the re-introduction of ground effect for 2022.
And the new pecking order usually tends to prevail for some time as everyone else plays catch-up. Mercedes' ongoing problems are harshly indicative of that, despite a winter of very hard work.
HINCH'S HEROES: Who starred under the lights at the 2023 season opener in Bahrain?
Stroll's green team appear to have got their concept right, and now, at last, the marque is looking respectable in a formula where its first efforts way back in 1959 and '60 were embarrassing and best forgotten. Engine supplier Toto Wolff admitted at the weekend that Mercedes' own 'zero sidepod' concept is probably not the answer after all, just as we suspected after a downplayed launch of the W14.
"They gained two seconds in half a year and their car is half ours, from the engine, gearbox and rear suspension and using the same wind tunnel," Toto said of the Aston. "We need to acknowledge that they have done an outstanding job." In my opinion, self-assessment doesn't get much more honest and brutal than that.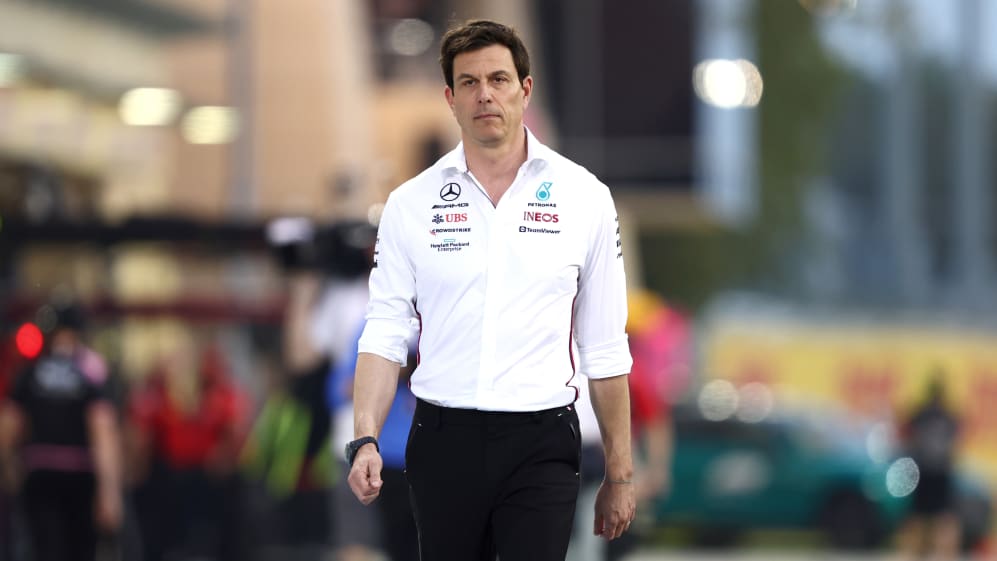 So the emergence of Aston Martin and Fernando as a very competitive package is something we should all cheer. Not just because it's a midfield contender apparently showing that it is possible to jump much closer to the Big Three – seventh to second thus far is pretty impressive! – and the return to the front of the oldest and one of the most talented drivers on the grid, but because Fernando is another genuine heavyweight, like Lewis.
Meanwhile, the plucky Spaniard gave us speed that holds the promise of more giant-killing in the races to come, since we can't yet be sure that the Red Bull sweet spot wasn't overly circuit-dependent here.
MUST-SEE: How Alonso muscled his way onto the podium in Bahrain – plus his ecstatic reaction
"If there is an opportunity there for the taking, then we will look to capitalise on it," Fernando said over the weekend, in what was a commendable piece of understatement given his powerful will to win.
It was a sort of Spanish F1 legend's equivalent of the A Team's Mr T: "Gangway, suckas, comin' through!" And, boy, did he come through on Sunday.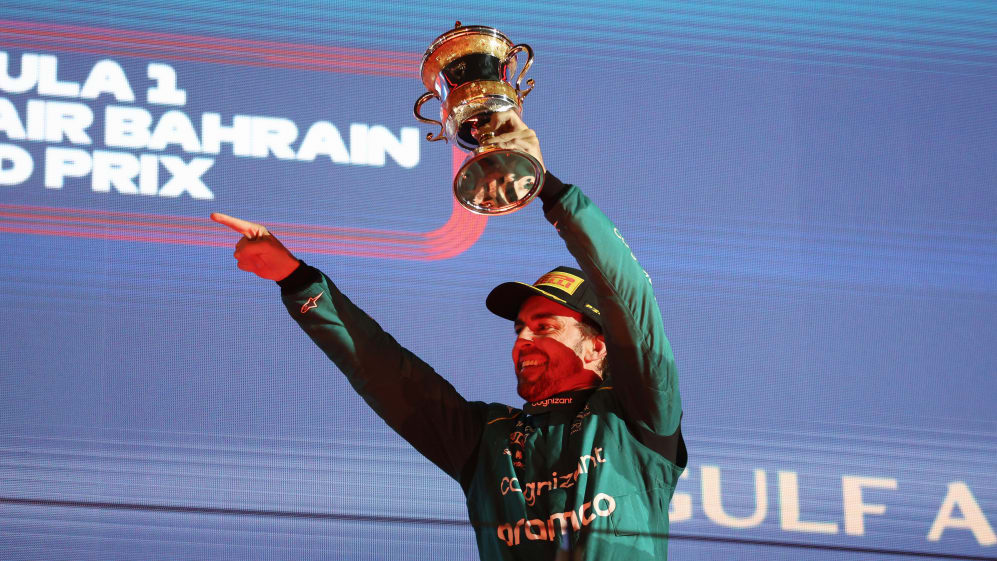 I'd love to see Aston gain that little bit more on some tracks to enable Fernando to get right up there with Max.
The Dutchman has enough trouble with Lewis when things are running right for the latter, without a third hard-headed racer pushing back into the spotlight.
The reigning double champion versus another pure racer who also has two titles to his name… Max and Lewis have clashed several times now because neither is prepared to back off for the other… Fernando comes from exactly the same mould, and I can't wait to see what he might be able to pull off on tracks such as Imola and Monaco…