There's some fantastic premier class line-ups in 2023, so let's take a look back at some of the fiercest teammate rivalries in recent years
As the saying goes in this phenomenal sport: your teammate is your first rival. Most of the time, you have the same equipment at your disposal, meaning the rider sitting on the other side of the box is competing on a level playing field with you.
In 2023, we've got some mega line-ups. Reigning World Champion Francesco Bagnaia is joined by Enea Bastianini in an all-Italian Ducati Lenovo Team outfit; Joan Mir moves alongside eight-time World Champion Marc Marquez at Repsol Honda Team; will Franco Morbidelli rediscover his race-winning form to challenge Monster Energy Yamaha MotoGP™ teammate Fabio Quartararo on a weekly basis? And then there's the tantalising Brad Binder and Jack Miller line-up at Red Bull KTM Factory Racing.

MotoGP™ Stories: The Resurrection of Ducati 24/02/2023
That's to name a few. 2023 is shaping up to be an incredible season of Grand Prix motorcycle racing, but will we see some more teammate rivalries etch their name into the history books? Let's have a look to see some of the inter-team battles we've had the privilege of witnessing in recent years.
Nicky Hayden & Dani Pedrosa – Repsol Honda, 2006-2008
In 2006, Repsol Honda welcomed three-time World Champion Dani Pedrosa to their team to partner Nicky Hayden. Pedrosa was coming off the back of three straight title-winning campaigns and took to MotoGP™ like a duck to water. The Little Samurai claimed three podiums in his opening five races, including a debut win in China.
Meanwhile, a super consistent Hayden was stringing together a title charge – in the opening 11 races, the late, great American finished off the podium just twice. It became a formidable partnership that year, but Pedrosa was a consistent threat to his more experienced competitors, including Hayden. The two came to blows in that infamous Estoril incident when Pedrosa took out Hayden, in a crash that could have cost his fellow MotoGP™ Legend the title. In the end, Hayden would go on to claim the title in Valencia, while Pedrosa announced to the world that he was a force to be reckoned with in the premier class – and Honda's new hope.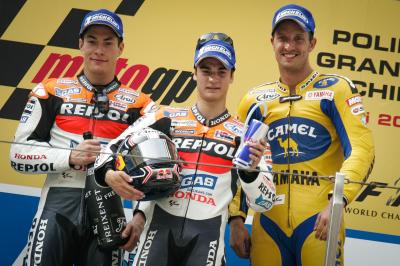 Valentino Rossi & Jorge Lorenzo – Yamaha factory, 2007-2010 & 2013-2016
An unforgettable teammate rivalry. And again, similar to Hayden and Pedrosa, it was a youthful, upcoming World Champion vs an experienced premier class star. The famous wall in the garage, that Motegi on-track scrap, both winning a title each as teammates and more – Rossi vs Lorenzo had it all.
After Rossi's two-year stint on a Ducati, the pair were reunited in 2013 when the nine-time World Champion returned to Yamaha. Things weren't quite as frosty between the Spaniard and Italian as they had been, but then 2015 came around. Rossi vs Lorenzo for the MotoGP™ title. A Championship chase for the ages. A teammate rivalry that will go down in history.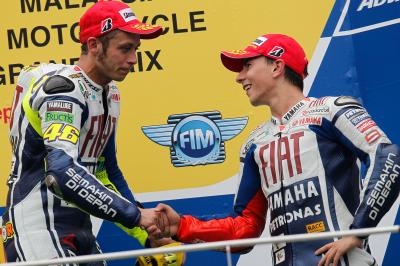 Marc Marquez vs Dani Pedrosa – Repsol Honda, 2013-2018
There's a theme beginning to appear here. A fresh-faced Marc Marquez came into MotoGP™ as a double World Champion and one of the most exhilarating talents on the Grand Prix scene. Pedrosa was still hunting for that debut premier class crown, and just like he'd done in 2006, Marquez was quickly a podium finisher and race winner.
Having gone on to famously beat teammate Pedrosa and Lorenzo to the 2013 title, upsetting both along the way, Marquez stormed to a second MotoGP™ title in 2014. 2016, 2017 and 2018 World Championships came the number 93's way before Pedrosa retired from full-time MotoGP™ action at the end of the 2018 campaign without that wanted premier class title.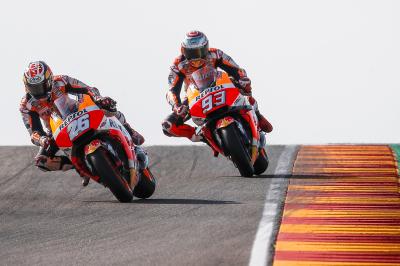 Andrea Dovizioso & Andrea Iannone – Ducati factory, 2015-2016
The Dovizioso and Iannone partnership is a lesser talked about teammate rivalry, but it's one that should be mentioned. 2015 was when Ducati, under the guidance of Gigi Dall'Igna, really started to threaten podiums and victories on a regular basis. Dovizioso had been in the factory Ducati ranks for the 2013 and 2014 seasons, before Iannone was promoted from Pramac in 2015.
Two Italians on an Italian manufacturer, both fighting to be the first Ducati MotoGP™ race winner since Casey Stoner. 2015 saw Iannone finish ahead of Dovizioso in the World Championship, and it was the former who took the honour of claiming Ducati's first win since Stoner at the 2016 Austrian GP. However, this came after he'd taken out Dovizioso on the final lap in Argentina. Ducati chose Dovizioso to be their rider heading into 2017, with Iannone eventually leaving the Italian marque for Suzuki.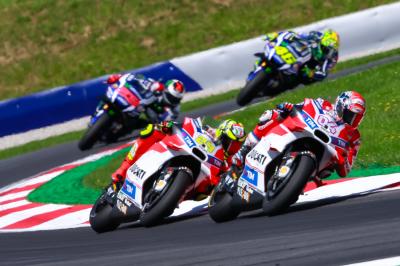 Andrea Dovizioso & Jorge Lorenzo – Ducati factory, 2017-2018
Back in their 125cc and 250cc days, Dovizioso and Lorenzo were bitter rivals. That's why when Lorenzo made the switch to Ducati in 2017, our mouths were watering. It was a huge challenge for Lorenzo, who was essentially coming to Dovizioso's house to try and disrupt the pecking order.
That didn't happen in 2017 as Dovizioso took the title race down to the final race against Marc Marquez. Could Lorenzo have moved out of the way of Dovizioso sooner in that finale? That was a talking point. In 2018, Lorenzo eventually found his groove on the Desmosedici and won three races to sit ahead of Dovizioso in the title race after 11 races, before his second half of the season was hampered by injuries. That would have been a fascinating fight if Lorenzo had stayed fit.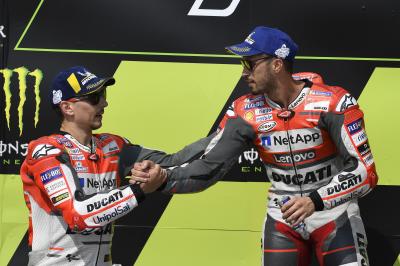 Will we see anything similar in 2023? Let's hope so. We've got some magical-looking line-ups across the board heading into the new season, with the grid overflowing with talent looking to stand on the podium week in, week out.