Seven MotoGP™ stars have switched manufacturers for 2023, but how did their three days go in Malaysia?
2023 sees seven premier class stars switching manufacturers from what they rode in 2022. We got a first glimpse of those riders on their new machines at the Valencia Test back in November, but the Sepang Test is where we really saw these MotoGP™ stars get to grips with the tools they'll be racing with this year.
Let's have a closer look at how they got on during the three days in Malaysia, before pre-season testing resumes at the Autódromo Internacional do Algarve on the 11th and 12th of March. 
Alex Marquez (Gresini Racing MotoGP™)
One of the dark horses for 2023? There's plenty who think so. After three years on a Honda – one in Repsol colours and two in LCR Castrol colours – the two-time World Champion links up with Ducati for 2023, as Alex Marquez gets set to compete on the GP22 – the bike that helped Francesco Bagnaia (Ducati Lenovo Team) to win the title and Ducati claim the coveted Triple Crown.

New rides, fresh starts: MotoGP™ stars tackle new challenges 12/02/2023
And it's been a very promising start to life as a Ducati rider for the number 73. Marquez was the fastest new bike debutant in Sepang after setting a 1:58.385, a time just 0.496s off Luca Marini's (Mooney VR46 Racing Team) rapid 1:57.889 lap. That effort was also over one and a half seconds quicker than Marquez managed in Q1 at the 2022 Malaysian GP.
"Quite comfortable, really positive, really happy" were some of the words coming out of the Spaniard's mouth in Sepang, but there's still vast room for improvement – especially in the braking zones: "We are missing some things in the braking point to try and make something more." Alex Marquez and Ducati is a very exciting prospect. 
Raul Fernandez (RNF MotoGP™ Team):
After taking the world by storm in his rookie Moto2™ campaign in 2021, Raul Fernandez moved up to the premier class as one of the most tantalising prospects we've seen in recent years. However, his 2022 MotoGP™ debut campaign was a tough one on the Tech3 KTM, but Fernandez begins a new adventure with Aprilia for his sophomore premier class year.
In Sepang, Fernandez admitted it was the first time he's enjoyed riding a bike since stepping off his Red Bull KTM-donned Kalex Moto2™ motorcycle, and an 11th place on the combined timesheets proved it was a positive test. Fernandez's 1:58.710 was less than half a second shy of Aprilia Racing stalwart Aleix Espargaro, and it's safe to say the number 25 rider was happy about his three-day outing.
"The Test was really positive, I worked to always try to understand everything very clearly, and I think we did this job really well." There will be more to come from Fernandez in Portimao.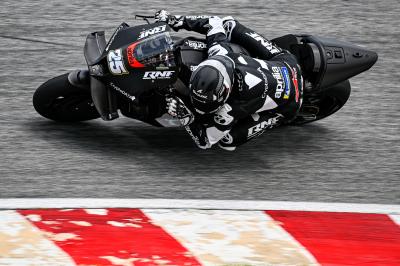 Joan Mir (Repsol Honda Team):
Mir's move to Repsol Honda to partner Marc Marquez is one of the most highly anticipated MotoGP™ moves for a while. The 2020 MotoGP™ World Champion has to adapt to a new style of bike for this season, so his 1:58.784 time attack lap that put him just over a tenth off Marquez's pace was quite impressive.
Mir and Honda are aware that substantial improvements need to be made to the RC213V ahead of 2023 kicking off in Portimao at the end of March, so the upcoming Portimao Test will be two crucial days.
"For sure we are still a bit far, but every day we are closer. So this is very important, every day we feel better on the bike." Those were the optimistic notes from Mir, who admits that he's now riding in a "completely different" way from how he piloted the Suzuki for four years. It's a big challenge ahead for the two-time World Champion, with he and HRC ones to watch at the Portimao Test.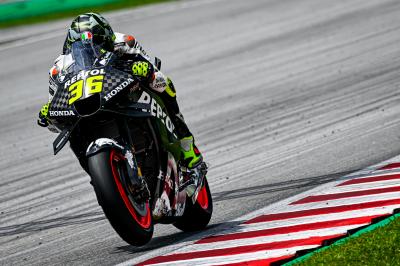 Pol Espargaro (GASGAS Factory Racing Tech3):
After two years in the Repsol Honda Team camp, Pol Espargaro is reunited with an old friend in 2023. Part of the new premier class GASGAS Factory Racing Tech3 project, the Spaniard is the only rider of the new bike debutants to be back on a bike that's even remotely familiar. That doesn't mean his task is much easier though, as two years is a long time in MotoGP™. The RC16 has changed a lot in that time.
A 1:58.797 placed Espargaro in 13th place at the Sepang Test, 0.9s from top spot, as the number 44 rider admitted that there are some small things to iron out before he's totally comfortable. "I still feel I need some more laps to clarify some small things but overall I'm pretty happy," said the Spaniard.
A huge positive for Espargaro is he's familiar with most of the personnel he's working with in 2023, so that side of things is something he's not had to worry about when embarking on his GASGAS adventure. "I know most of the guys in the factory and in the team and I feel comfortable with all of them. Personal and human relationships are so important and I think this is all under control."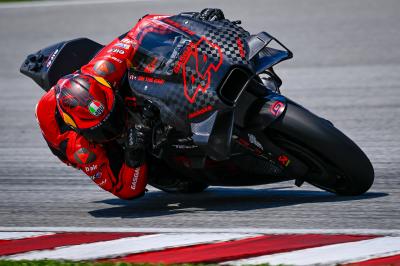 Jack Miller (Red Bull KTM Factory Racing):
After five successful years on a Ducati, 2023 brings a new challenge to Miller's table. 21 podiums in four seasons – including three wins – is the experience and talent Miller offers KTM, as the Austrian manufacturer look to turn their RC16 into a title-challenging weapon. The combination of Brad Binder and Miller makes their line-up an incredibly strong one.
It's not been a totally smooth transition for Miller so far though, with the Australian admitting he hit a "bit of a wall" with his search for an optimal set-up on Day 3 in Sepang. "The bike seems to be at a point now where we are just changing a couple of things to really get myself comfortable on it," said Miller.
"I've kind of hit a wall I guess you could say in terms of my set-up, just playing around with the geometry a little bit. Just before we stopped for lunch we made an improvement on the used tyres so the main focus is getting that comfortable before we finish this Test."
Miller ended the Test in P16 with a 1:58.901, less than a tenth shy of teammate Binder. KTM Team Manager Francesco Guidotti admitted that "expectations were quite high" and they "miss something" in terms of outright performance, so Miller and KTM are ones to really keep tabs on at the Portimao Test.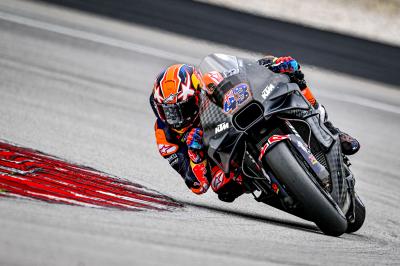 Miguel Oliveira (RNF MotoGP™ Team):
The rider Miller replaced at KTM raised a lot of eyebrows at the Valencia Test after finishing P4. Oliveira's transition from RC16 to RS-GP was as smooth as butter – from the outside – back in November, but in Sepang was where the real work started.
The Portuguese star is having to heavily adapt his style to Aprilia's RS-GP, and Oliveira admitted that he didn't have "the best feeling" with new tyres on the final day. That's a subject we also heard Fabio Quartararo (Monster Energy Yamaha MotoGP™) bemoan, and it's something that becomes more crucial in 2023 with the introduction of MotoGP™ Sprint.
On the whole though, Oliveira sounds like he's in a good place ahead of the Portimao Test. "With the new tyres today I didn't have the best feeling like I had yesterday. Yesterday everything was quite easy to do but today being faster almost everywhere except for a few corners, things were complicated a bit more," stated the two-time 2022 race winner.
"I have to definitely get rid of a lot of things I did on another bike for four years and it's not easy to do in three days, but for sure I'm in a very good way."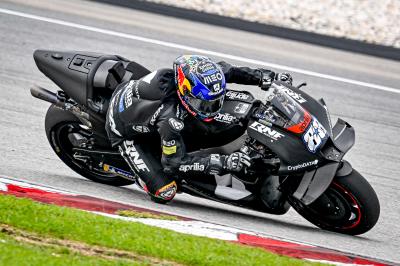 Alex Rins (LCR Honda Castrol):
Rins is on the same voyage as former teammate Mir. The Spaniard is having to completely change his riding style to squeeze every ounce of potential from his new RC213V, and overall he and the team are "quite happy" with how the Sepang Test played out.
Rins gave us an early indication of where he and Honda sit compared to Marini and Ducati. The Valencia GP race winner was around 0.5s off Marini's pace in their respective Sprint simulations, which given it was Rins' first time here on a Honda, is far from a disaster.
Rins – who ended the Test in 18th – also said that he doesn't yet have a "good base" on the bike, as he and the team work through different settings and set-ups to try and get Rins comfortable. The same goes for everyone, but the two-day Portimao Test will be such an important weekend for Rins ahead of the opening round of the season.