Ahead of #TheDecider, we've remembered four Valencia GPs that decided the MotoGP™ World Championship
To get warmed up for this weekend's decisive Gran Premio Motul de la Comunitat Valenciana, we thought it would be a good idea to have a look back at some MotoGP™ races at the Circuit Ricardo Tormo that decided which hands the MotoGP™ title ended up in.
Nicky Hayden vs Valentino Rossi – 2006
A simply unforgettable climax to a sensational season. After being wiped out by teammate Dani Pedrosa at the Portuguese GP, Nicky Hayden trailed Valentino Rossi by eight points heading into the 2006 finale. However, a Turn 2 crash saw Rossi score just three points, meaning Hayden's P3 was enough for the late, great American to win the title by five points.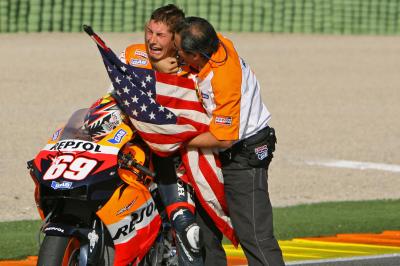 Marc Marquez vs Jorge Lorenzo – 2013  
Despite being black-flagged in the Australian GP and getting beat by Jorge Lorenzo in Japan, rookie Marc Marquez (Repsol Honda Team) held a 13-point advantage over his compatriot in Valencia. That meant after finishing P3 behind teammate Dani Pedrosa, even with Lorenzo winning a third race in a row, the number 93 was crowned MotoGP™ King for the first time.
Jorge Lorenzo vs Valentino Rossi – 2015
A title race for the ages. Yamaha teammates Lorenzo and Rossi arrived in Valencia seven points apart, with the advantage in Rossi's favour. However, after the drama that unfolded in Sepang, Rossi had a back of the grid penalty. The pace of Lorenzo, Pedrosa and Marquez proved too strong for anyone outside the top three to catch them in the race, meaning a win for Lorenzo would see him clinch his third premier class title – and that's exactly what happened, despite Rossi's sublime comeback ride to P4.
Marc Marquez vs Andrea Dovizioso – 2017
The last time we saw a MotoGP™ title race go to the final weekend of the season was in 2017, when Marquez and Andrea Dovizioso brought their fascinating duel to a close. Marquez led Dovizioso by 21 points, so Dovizioso – like Quartararo – had to win no matter what. Mapping 8, a miraculous Marquez save and a Dovizioso crash was all part of the unpredictable script that day, as Marquez emerged as MotoGP™ World Champion once more.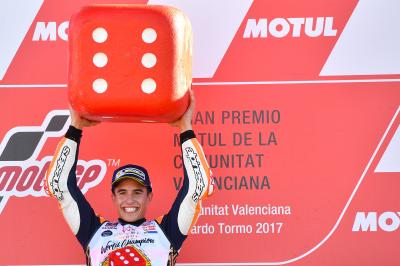 Fingers crossed we get a spell-binding end to the 2022 MotoGP™ season in Valencia.