A Phillip Island stunner has left us with plenty to dissect including renamed corners, not-so-warm welcomes and title-winning strategies
What a return MotoGP™ had to Australia! After a three-year absence, fans flocked in their droves to Phillip Island to welcome the grid back to the Melbourne coast, and the riders also held up their side of the bargain as they produced a breathtaking race. There were also a few MotoGP™ Legends in attendance too which added to the party atmosphere as we saw the Championship lead change hands, with plenty of post-race fall out too. Check out some of the weekend's biggest Talking Points below!

FREE: All the magic from Australia captured in super slowmo 16/10/2022
"I copied Casey's style"
Marc Marquez opened up on the influence that two-time World Champion and MotoGP™ Legend Casey Stoner had on his riding style in Australia. The Repsol Honda rider admitted that he was inspired by the Aussie, who was renowned for his drifting ability through tricky corners, particularly at Phillip Island's Turn 3.
"When I started MotoGP I had the data of Casey and I copied his style and it's one of my strong points, these kinds of corners too.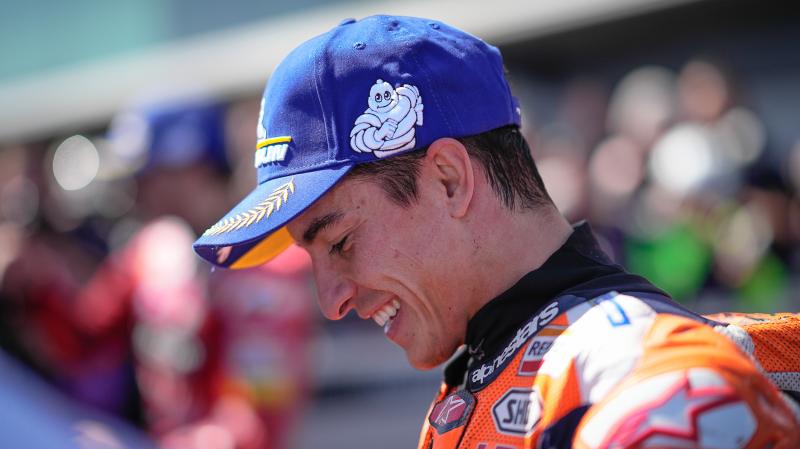 "We are coming" – Centurion Marquez fires 2023 warning 16/10/2022
"But now with these bikes, you need to ride in a different way, I mean with these aerodynamics, even when I put the tail in the back. Even was different. So now the bikes – I was speaking with Casey – becomes different to ride. 
"So yeah, it's different styles for the bikes, but Casey was super fast on that corner."
"My strategy is to be intelligent"
An Australian GP podium coupled with Fabio Quartararo's DNF means that Francesco Bagnaia seized control of the Championship and heads to Malaysia with his first match point in mind. What is the Ducati star's strategy, and how is he coping with the pressure?
"If I start thinking about the pressure, it will put pressure on me, so I will not think about. Just be calm and do the weekend like we always do in the past in this championship. Being smart will be the main key, for sure.
"My strategy is to be intelligent, try to do the weekend like we did all these races after the summer break, working session by session and trying to be very prepared for the race to be competitive and to be in front in the race.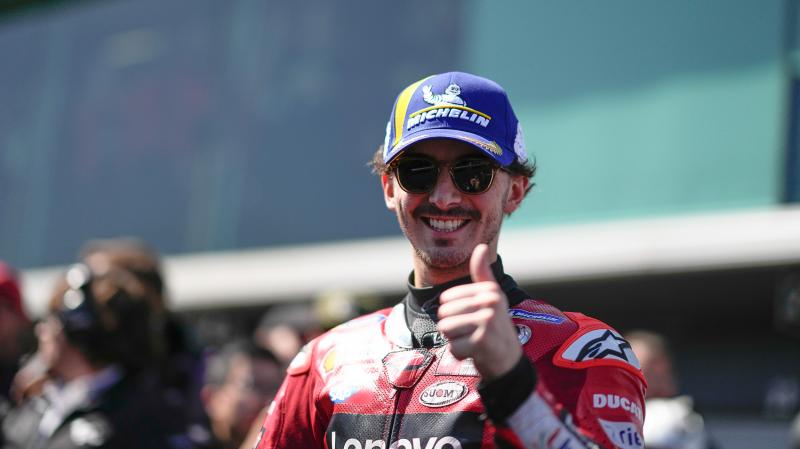 Bagnaia overcomes on-track adversity to seize title control 16/10/2022
Having usurped Quartararo at the Summit, Bagnaia also weighed in on the reigning Champion's recent struggles.
"He's in a difficult moment because he's always competitive in the races, starting to have problems. Also in the qualifying, he's struggling more in qualifying to be on the front row or to be among the top positions.
"It's quite clear that Yamaha are having a problem with races at the moment. Maybe for the tyres, maybe for the pressure, or because their engine is a bit slower than the others."
"The toughest job of my career, but I'm ready to fight for it"
Having led the Championship for the majority of the season, Fabio Quartararo slipped to second in the standings after his Australian DNF, but he is refusing to give up with two races remaining.
"We need to turn the page and we only have one thing; one job and it's trying to win and it's going to be the toughest job of my career, but I'm ready to fight for it.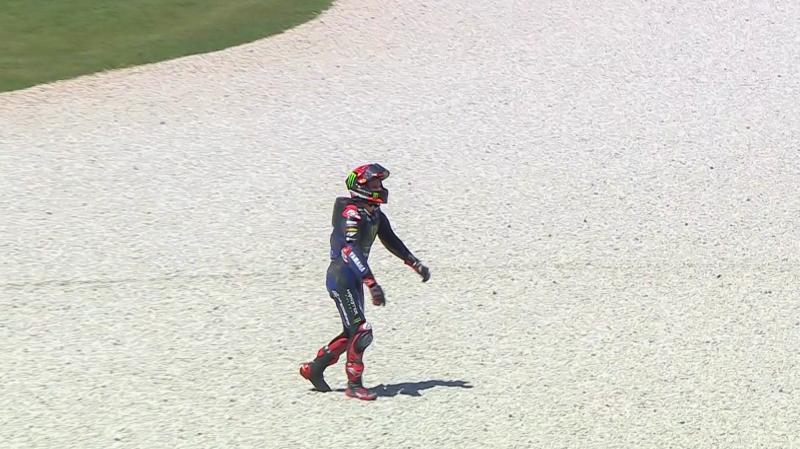 How is Quartararo coping after nightmare Australian GP? 16/10/2022
In spite of questions to the contrary, the reigning Champion feels his recent run of form isn't down to cracking under pressure, but rather trying to get too much out of his M1.
"2020 (collapse) was mentally and technically, and now I don't feel, mentally, like I'm over-thinking too much or not. So mentally I don't feel it's like 2020.
"But just trying to do my best and I'm overriding a little bit so much and the risk of having a mistake is really close. So that's what happened today."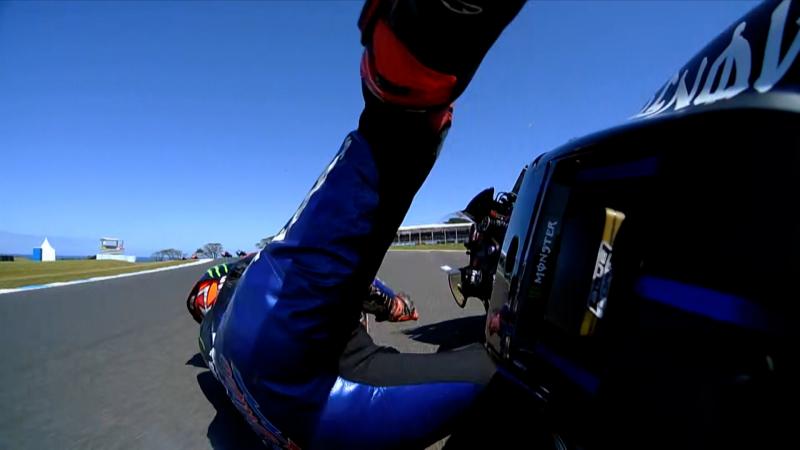 MUST-SEE: Quartararo is out of the Australian GP! 16/10/2022
"I won't say I wish the best to Alex"
There will be no warm welcome to Honda for Australian GP victor Alex Rins (Team Suzuki Ecstar). The Spaniard will join the ranks of LCR from 2023, but it matters little to factory HRC star Marc Marquez, who just sees him as another rival.
"I will not give any advice to Alex. He will be another opponent. It's good that a world champion and a rider that is winning races with another manufacturer are joining Honda. So like this, we will see exactly our level. I'm working really hard to improve the 2023 project together with Honda. They are working really hard, too. I won't say I wish the best to Alex. Let's go, and that's it. He's another opponent. If not, it will be fake.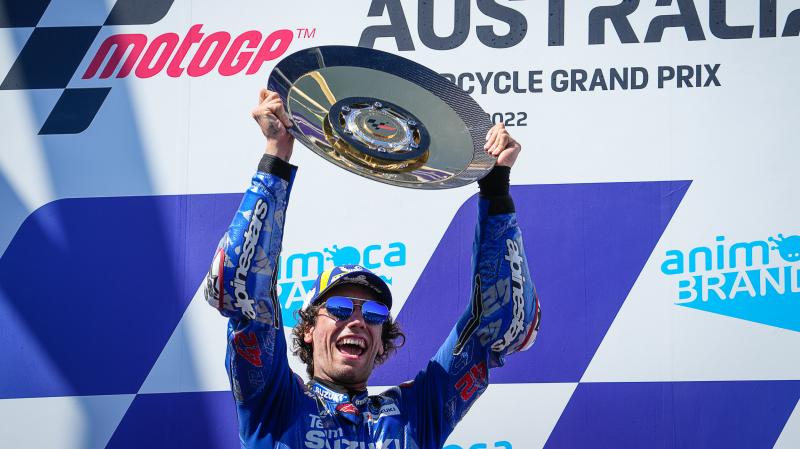 From P10 to P1: Rins reflects on classic victory comeback 16/10/2022
"I think he's as devastated as I am"
There was major disappointment for home hero Jack Miller (Ducati Lenovo Team) in Australia, as he didn't see the chequered flag after being wiped out by LCR Honda's Alex Marquez. Speaking post-race, there seems to be no hard feelings between the two, with the Spaniard repentant and Miller adopting a 'C'est le vie' approach once he had flushed the adrenaline out of his system.
Alex Marquez: "It's normal, he was angry! It was a conversation of riders with adrenaline and I need to keep that (in mind). Later when I went to the box I saw Davide Tardozzi and all of them, and they said 'no worries, it can happen'. Just this. He did it also in the past, and made some mistakes in his first year, so it can happen to anybody. But it is not an excuse, I made a huge mistake today.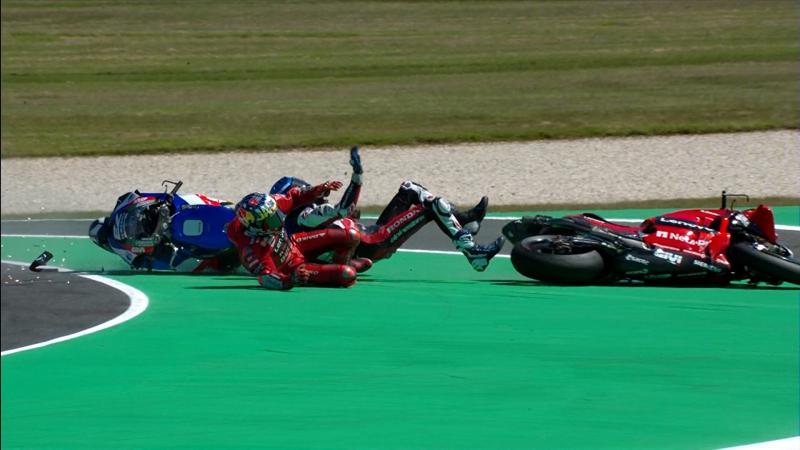 WATCH: Miller wiped out by A. Marquez in Australia 16/10/2022
Jack Miller: "One minute I'm looking at the back end of the Bezzecchi's bike and the next minute I was seeing stars. I got pretty winded, feel alright, just a bit bruised and whatnot. But we'll be alright."
"What's there to be hard feelings about? I mean, at the end of the day, we're all out there trying to do our best. I understand he might have got a little bit carried away trying to get past Luca Marini, but you know we've all made mistakes.
"I think he's as devastated as I am to not be finishing the race, don't get me wrong, but of course first home Grand Prix after three years, it's definitely not the way I wanted to finish it."
"The irony of it all"
It was still a weekend to remember for Miller, who had Turn 4 at Phillip Island named after him while fans from all across the country flocked to the Melbourne coast to catch a glimpse of him. Admitting that "I'm definitely not worthy of it, but I'll take it," even Miller could crack a wry smile at where his race came to an end.  
"Selfies, handshakes, signatures. It's been fantastic. Honestly, I love it all. It's awesome to see motorcycling in such good health back here. I love this sport and it's amazing to see everyone enjoying it as much as I do.
"It's the irony of it all. But it is what it is. We'll come back next year even stronger."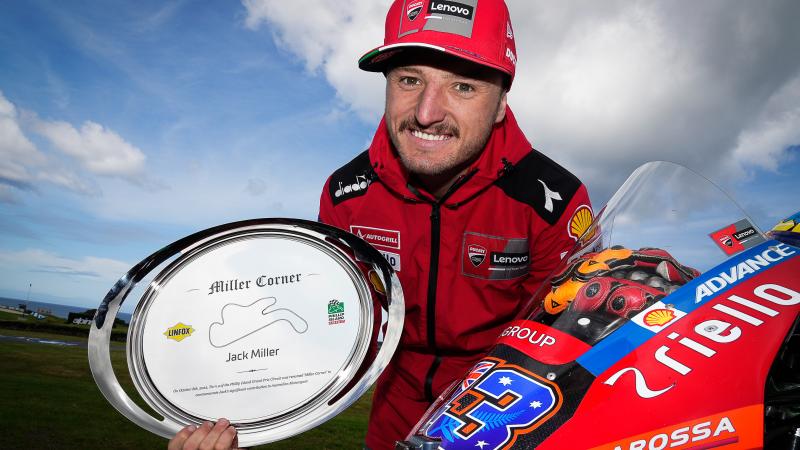 Unforgettable! Miller accepts the highest of honours 15/10/2022