Sergio Perez held off Charles Leclerc for his first-ever win on the streets of Singapore. At the same time, Carlos Sainz completed the podium, and Max Verstappen finished seventh in an action-packed 2022 Formula 1 Singapore Grand Prix. The race winner is, however, under investigation for a Safety Car infringement…
Click here to subscribe to our print edition!
Heavy rain forced a delay of over an hour, with the formation lap beginning at 2105 local time. Although the rain had ceased, the surface was still slippery for the start of the race, when pole-sitter Leclerc lost the lead to Perez into Turn 1, and Sainz quickly pried P3 off Hamilton, who went wide into Turn 1.
Verstappen lost five places to fall to P12 at the start, but he made three up by Lap 9 when the first Safety Car was deployed for Nicholas Latifi and Zhou Guanyu's collision. Fernando Alonso's stoppage brought out a Virtual Safety Car on Lap 20, with George Russell becoming the first driver to switch from intermediates to mediums.
Russell's improving pace triggered drivers to begin swapping for slick tyres on Lap 35. Still, on the following tour, Yuki Tsunoda went straight on into the barriers at Turn 10 to bring out the second Safety Car, before which most of the drivers had stopped for slicks. Crucially, the McLaren drivers hadn't; Lando Norris came in for a new set of mediums, and Daniel Ricciardo opted for slicks as they emerged fourth and sixth for the restart.
The race restarted on Lap 39 for Perez to continue leading. Meanwhile, Verstappen suffered a heavy lockup in an attempt to pass Leclerc and was briefly bumped to last place before George Russell and Mick Schumacher picked up punctures after making brief contact into Turn 1.
With the two-hour mark approaching, this race would be finished by the timer, and Perez had 26 minutes to hold off a fast-charging Leclerc when DRS was enabled on the 43rd lap. What followed was a stunning chase for victory, Perez unerring in defence as he held off the Monegasque driver by over seven seconds at the chequered flag.
Perez would, however, find himself under investigation for passing the Safety Car just before the second restart – the summons coming after the race.
Sainz completed the podium for Ferrari, having passed Hamilton at the start, while Norris and Ricciardo benefitted from their late Safety Car stops and finished respective P4 and P5.
Lance Stroll and Sebastian Vettel capitalised on errors from Hamilton and Verstappen to finish sixth and eighth, respectively, in a massive result for Aston Martin.
Hamilton, who had previously gone straight into the barriers on Lap 33, locked up in an attempt to pass Vettel in the final two minutes of the race and dropped to ninth. That gave Verstappen P8, despite the Dutchman having locked up heavily in the final Safety Car restart. The Red Bull driver then pried P7 off Vettel with a pass on the very last lap of the race.
Behind Hamilton, Pierre Gasly rounded out the top 10 for AlphaTauri, with Valtteri Bottas (11th) unable to take the final point despite taking softs for the final Safety Car restart.
Kevin Magnussen, who had to pit with damage from a Lap 1 collision in avoidance of Verstappen, ended up 12th, with Schumacher finishing up 13th after picking up that puncture in defence from Russell.
Russell rounded out the standings in 14th for Mercedes, having started in the pit lane, the Briton pitting four times and posting the fastest lap of the race.
There were six retirements from the race, with Zhou and Latifi colliding early on before Alonso stopped with an engine issue on Lap 20.
Albon crashed and retired in the pits on Lap 26 before Esteban Ocon's engine gave up to make it a double retirement for Alpine, and Tsunoda crashed out to bring out the final Safety Car.
Mario Isola, Motorsport Director, Pirelli:
The Cinturato Green intermediates showed their reliability today. Even with relatively high wear, they delivered excellent performance over several laps, just as we expected, thanks to the data collected in qualifying. As we saw yesterday, the track took some time to dry out because of the water that remained on the surface. As conditions became drier, the race took on a new lease of life, with drivers moving onto the slicks.
Most teams chose the P Zero Yellow medium, which guaranteed an optimal balance between performance, warm-up, and durability. Drivers had to pay particular attention not to going off the line to avoid water cooling down the compound, which could affect operating temperatures. To come back to Singapore in front of so many fans truly showcased Formula 1 at its spectacular best this weekend.
How the race was won:
Red Bull driver Sergio Perez underlined his status as the man to beat on street circuits following his Monaco victory earlier this year. He won the Singapore Grand Prix ahead of Ferrari teammates Charles Leclerc and Carlos Sainz. The top three crossed the finish line on P Zero Yellow medium tyres.
The start of the race was delayed for an hour following a rainstorm that fell shortly before the cars were due to go to the grid. Once the rain had stopped, racing got underway on a wet track with all the cars on the Cinturato Green intermediate. More than half the race elapsed before the track was suitable for slicks.
Once more, the Safety Car played a prominent role in Singapore. The first Safety Car period came on lap seven, with nobody electing to stop for fresh tyres. There was then a Virtual Safety Car on lap 21 when Mercedes driver George Russell was the first to go onto P Zero Yellow medium slicks. The other teams eventually followed the same strategy, except McLaren's Daniel Ricciardo and Alfa Romero driver Valtteri Bottas chose the P Zero Red soft. The excitement in the closing stages came from Leclerc and Perez trading fastest laps, with the Mexican's final effort being a 1m48.165s on the mediums.
The alternative strategy:
The McLaren duo of Lando Norris and Daniel Ricciardo got the best use out of the Cinturato Green intermediate, completing the longest stint of 36 laps. The team split the strategies, with both drivers stopping only once but Norris going onto medium and Ricciardo onto soft. The result was fourth and fifth, with solid points for the British squad.
Red Bull's Max Verstappen, who started from eighth on the grid, managed to finish in the points after losing several positions. He quickly made two pit stops: taking the mediums on lap 35 before swapping them for softs five laps later. The championship leader eventually took the flag in seventh.
Haas drivers Kevin Magnussen and Mick Schumacher also stopped just once with split strategies, finishing in 12th and 13th places on the medium and soft tyres, respectively.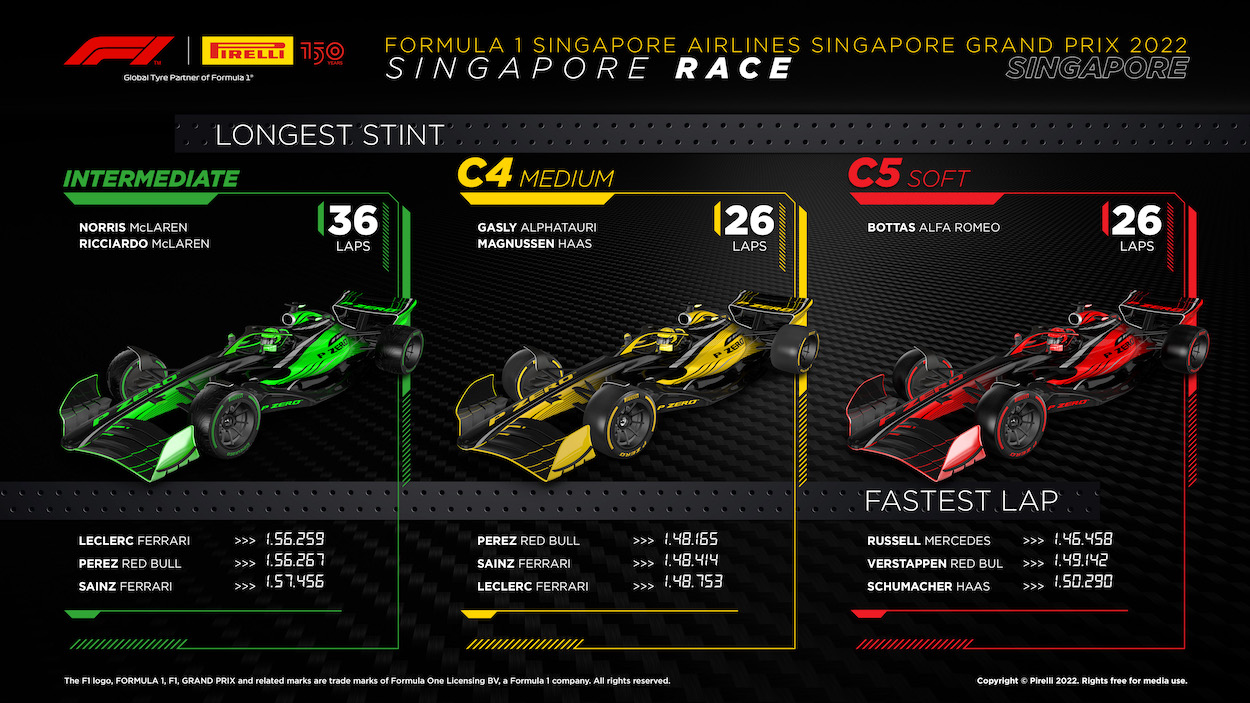 2022 Formula 1 Singapore GP Race Results
| Pos | No | Driver | Country | Team | Time | Points | Overall |
| --- | --- | --- | --- | --- | --- | --- | --- |
| 1. | 11 | Sergio Perez | Mexico | Red Bull Racing Honda | 2:02:15.238 | 25 | 235 |
| 2. | 16 | Charles Leclerc | Monaco | Scuderia Ferrari | +7.595s | 18 | 237 |
| 3. | 55 | Carlos Sainz | Spain | Scuderia Ferrari | +15.305s | 15 | 202 |
| 4. | 4 | Lando Norris | Great Britain | Mclaren Racing | +26.133s | 12 | 100 |
| 5. | 3 | Daniel Ricciardo | Australia | McLaren Racing | +58.282s | 10 | 29 |
| 6. | 18 | Lance Stroll | Canada | Aston Martin F1 Team | +61.330s | 8 | 19 |
| 7. | 1 | Max Verstappen | Netherlands | Red Bull Racing Honda | +63.825s | 6 | 341 |
| 8. | 5 | Sebastian Vettel | Germany | Aston Martin F1 Team | +65.032s | 4 | 24 |
| 9. | 44 | Lewis Hamilton | Great Britain | Mercedes-AMG Petronas | +66.515s | 2 | 170 |
| 10. | 10 | Pierre Gasly | France | Scuderia AlphaTauri | +74.576s | 1 | 23 |
| 11. | 77 | Valtteri Bottas | Finland | Alfa Romeo F1 Team | +93.844s | 0 | 46 |
| 12. | 20 | Kevin Magnussen | Denmark | Haas F1 Team | +97.610s | 0 | 22 |
| 13. | 47 | Mick Schumacher | Germany | Haas F1 Team | +1 lap | 0 | 12 |
| 14. | 63 | George Russell | Great Britain | Mercedes-AMG Petronas | +2 laps | 0 | 197 |
| 15. | 22 | Yuki Tsunoda | Japan | Scuderia AlphaTauri | DNF | 0 | 11 |
| 16. | 31 | Esteban Ocon | France | Alpine F1 Team | DNF | 0 | 66 |
| 17. | 45 | Alexander Albon | Thailand | Williams Racing | DNF | 0 | 2 |
| 18. | 14 | Fernando Alonso | Spain | Alpine F1 Team | DNF | 8 | 59 |
| 19. | 6 | Nicholas Latifi | Canada | Williams Racing | DNF | 0 | 0 |
| 10. | 24 | Zhou Guanyu | China | Alfa Romeo F1 Team | DNF | 0 | 6 |
2022 Constructor Standings
Here are the team-by-team highlights:
The post 2022 Formula 1 Singapore Grand Prix highlights appeared first on Paddock Magazine.