Bagnaia outlines his expectations of Bastianini, A. Espargaro calls out Morbidelli and M. Marquez offers up his title prediction
As always, MotoGP™ delivered the drama in spades over the weekend, with the Championship battle as close as it has ever been in 2022. Just two points separate Fabio Quartararo (Monster Energy Yamaha MotoGP™) and Francesco Bagnaia (Ducati Lenovo Team) after the Frenchman finished outside the top 15 in Thailand, and Pecco took an eighth podium of the campaign.

FREE: The tense finale to a thunderous Thai GP 02/10/2022
Naturally, after such a dramatic weekend, there is plenty for us to pick the bones of, so let's take a look at some of the biggest talking points from Thailand.
"I hope Enea can be like Jack"
Ahead of lights out on Sunday, Bagnaia admitted that he was feeling upset about his race chances due to the downpours on circuit but the Italian credited his teammate Jack Miller with a pre-race pep talk that helped inspire him to a podium charge in Buriram. The Aussie will leave the Borgo Panigale factory at the season's end, and Pecco hopes that his incoming teammate can fill the big shoes being left behind.
"Jack came to me and gave me some effort (advice), and this is good, like a teammate. It will be difficult to replace that. I hope that with Enea (Bastianini) we can do something like this. Jack is my friend, we know each other very well."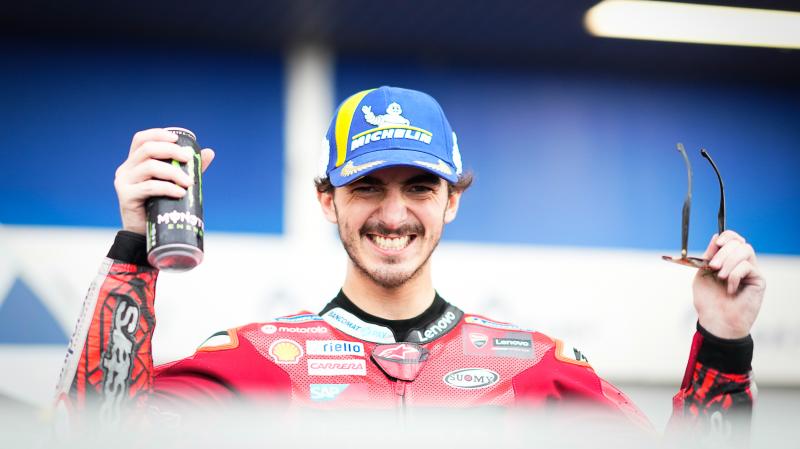 "I was sure he would make a move" – Bagnaia on podium scrap 02/10/2022
"Ducati will be thankful" – Are factory orders finally in play?
Johann Zarco (Prima Pramac Racing) exhibited excellent late race pace on Sunday to put himself into the podium fight, managing to get the better of Marc Marquez (Repsol Honda Team) in the battle for fourth, but his ascent stopped there as he slotted in behind Bagnaia. The Frenchman has admitted he "hesitated" when considering an overtake on his factory counterpart, and decided to settle in for a P4 finish.
"Ducati doesn't want to take a victory away from a rider, but for other positions, if we can calculate a little bit, they will be thankful. And as I say, in these conditions, I had to go for the victory, so victory lost, almost don't go on the podium. If I still made a podium, I would be happy, but I stayed fourth."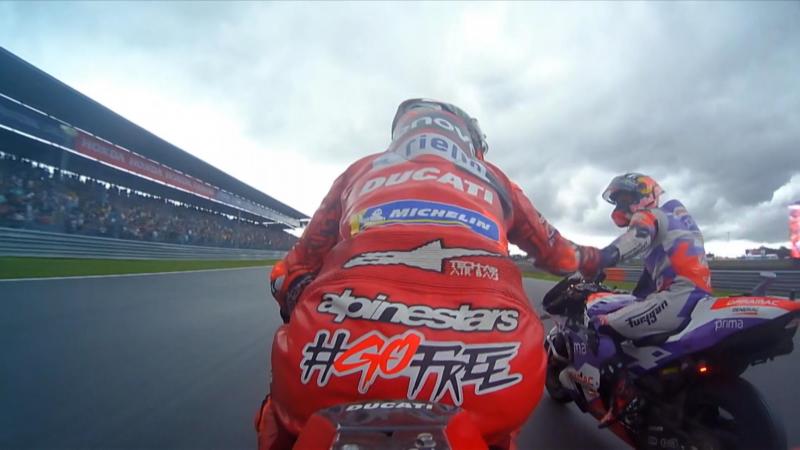 "I hesitated with Pecco" – Zarco a Ducati team player 02/10/2022
The rider he finished ahead of also weighed in on the matter, with Marquez mentioning a "special respect" between the Bologna bullets.
"It's true that Zarco was coming up very fast, passed me and the stayed behind Pecco. I don't know. I don't believe it was factory orders. But it's normal. Ducati has not won the World Championship since 2007.
"They have the best bike on the grid. All the riders are in the front and they must use this power to win the Championship and I believe they will."

Ducati's "special respect" sees M. Marquez lose podium fight 02/10/2022
The eight-time World Champion has even backed Bagnaia and his GP22 to go all the way and end Ducati's 15 year wait for a Riders' Championship, feeling the Desmosedici is just too good not to win.
"I bet on Pecco's bike. I mean Ducati is Ducati and many riders with them are good, but Fabio is Fabio. He is riding very good. His weak point is maybe on rain conditions, like today, but yeah it will be interesting to see on the track."
"More chaos in Ducati"
Sunday's race also saw the third contender claw back some points on Fabio Quartararo, with Aleix Espargaro (Aprilia Racing) now just 20 behind the title leader, with some of his favoured circuits next up.
"I am very motivated because we have had very bad luck in these two tracks and even like this we are within 20 points. Now we go to two very strong circuits for us where I flow in the winter test and Malaysia. The rain and what happened today is a signal. We will have some fun.
"Fabio is still leading and more chaos in Ducati because three riders can win the title. It's going to be easy for them to manage – which is a pleasure, I hope in the future Aprilia can have three bikes that can win the title – but it will be difficult for them (to win the title) and Fabio is still the man to beat."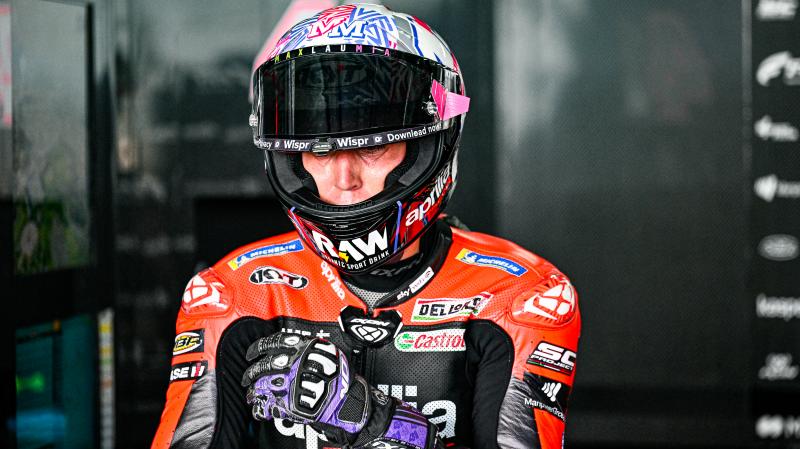 A. Espargaro details incident that saw him handed a LLP 02/10/2022
"Morbidelli hit me twice, maybe he was looking for a contract for next year"
Espargaro had to serve a Long Lap Penalty in Sunday's race, after he collided with factory KTM Brad Binder at Turn 3. The Aprilia rider accepted the decision, but feels there were other similar incidents that went unnoticed.
"Morbidelli hit me twice in the last laps: maybe he was looking for a contract or something for next year, I don't know. Incredible. I didn't understand really, and he didn't get any Long Lap Penalty. Which is OK. This is racing. I accept it but I saw other overtakes with (Marco) Bezzecchi, (Jorge) Martin, and Marc and Bezzecchi on the limit."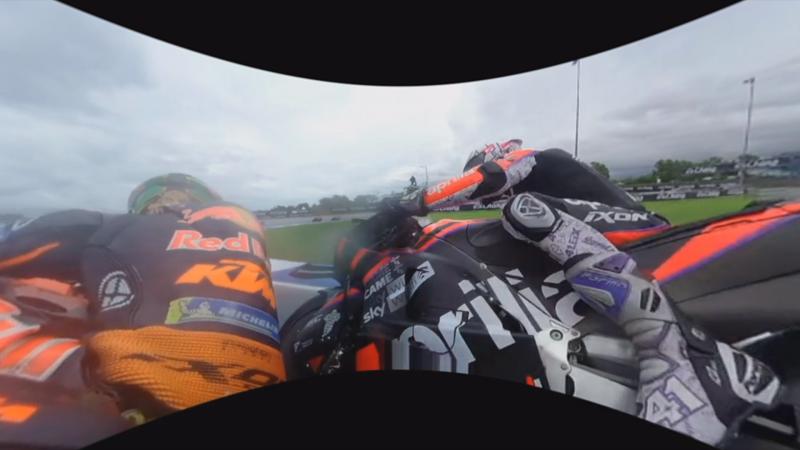 WATCH: The A. Espargaro and Binder clash in 360! 02/10/2022
"If I raced with this bike last year, I wouldn't have quit MotoGP"
Danilo Petrucci made a very welcome return to the paddock over the weekend, filling for the injured Joan Mir on Suzuki's GSX-RR, and the Italian was glowing in his praise of the bike.
"Maybe if I raced with this bike last year then maybe I would not have quit my MotoGP career. For sure. Because I really enjoyed riding it and I was surprised at the beginning and I thought I would be slower
"For the position and the ergonomics, it is my first Japanese bike and it is so different. But it is so good. I have no money, otherwise, I would buy this bike! After Dakar, I bought the bike but it was only 15,000 euros. I think this one costs a little bit more and I don't have all this money!"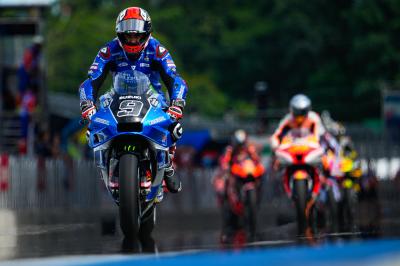 "Yamaha were absolutely nowhere this weekend"
It was a very tough weekend for the Iwata factory in Thailand, with WithU RNF rider Cal Crutchlow admitting as much post-race. Only Franco Morbidelli (Monster Energy Yamaha MotoGP™) picked up any points for Yamaha, while Quartararo saw his title lead decimated to just two points.
Fighting at the back of the pack with the Championship leader, Crutchlow detailed the M1's problems, and his surprise at such a poor outing.
"I was in a group with Fabio. Fabio couldn't turn the bike, couldn't lean the bike over, the front wheel was not following the corner. I had exactly the same feeling.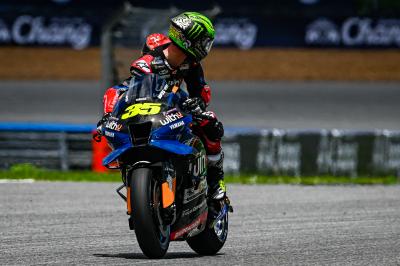 "But I pushed with the rear a lot, and then I ripped the centre out of the rear of the tyre, because I was riding with the rear a lot to compensate for the front.
"Bad weekend for Yamaha all round. It's unfortunate because I think if it's a dry race, we would have all had good races, from our pace. But we expected more in the rain as well because Fabio was on the podium in Mandalika. Then we come here and we are absolutely nowhere."