A new layout, best MotoGP™ finishes, the title race and Sprint races – it was a weekend full of hot topics at the Red Bull Ring
As the dust settles on another fantastic weekend of MotoGP™ action at the CryptoDATA Motorrad Grand Prix von Österreich, we've taken a look at some of the talking points from a busy and very important few days at the Red Bull Ring. Sprint races, a new layout, a new team entering MotoGP™ in 2023… Austria was by no mean quiet.
Jack Miller (Ducati Lenovo Team): "It'll definitely be a spectacle"
The breaking news on Saturday morning was the confirmation that Sprint races will be on the menu in 2023 at all Grands Prix. And it's safe to say Miller was especially looking forward to trying out the new, exciting Saturday format.
"Yeah, definitely. For us as riders, myself personally, on my weekends off I go and race motorcycles. I love racing motorcycles, so another opportunity over the weekend. We have this big build-up of four days, five days here to race once. It's been great, but I think change is good. Change is inevitable. It's coming. The fact that the championship is working towards changing the program and willing to try a big step forward or a big step outside of what's the regular, I take my hat off to them because it's a gamble but I think it will be a positive gamble.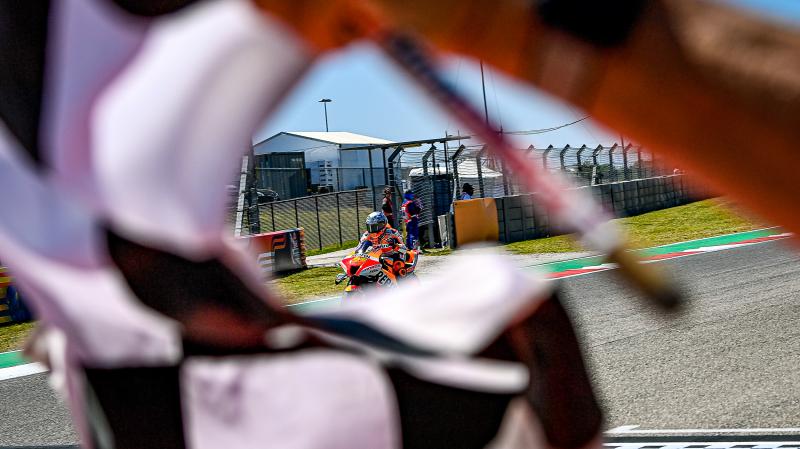 The new MotoGP™ Sprint Race format explained in detail 20/08/2022
"Not only for us as riders, I think the exposure and the racing that's going to come from a half-race distance, let's say the points, win or lose, it's not a massive gain or loss, so you can risk a little bit more. So, that alone is going to create fantastic racing. Like you said, the tire management sort of goes out the window. So, it will be soft. It will be fast. It'll be definitely a spectacle. I look forward to being a part of it and a part of the history changing in MotoGP."
Francesco Bagnaia (Ducati Lenovo Team): "Maybe this year we could have two races in one week"
Before his stellar race-winning performance on Sunday – as with every rider – Pecco was asked about his thoughts on the Sprint race news. Jokingly, the Italian suggested two races this year might be a good idea too to try and reel in Fabio Quartararo (Monster Energy Yamaha MotoGP™) at a faster rate of knots.
"It's something a bit strange in F1 but in WorldSBK it's something cool. I have to try. Maybe this year we could have two races in one week, it could help us."
Brad Binder (Red Bull KTM Factory Racing): "We had a lot of fun in 2020"
The first big breaking news story of the weekend came on Friday when GASGAS announced they were entering MotoGP™ for the 2023 campaign, teaming up with Tech3 to form the GASGAS Factory Racing Team outfit. What's more, Pol Espargaro (Repsol Honda Team) was announced as one of the riders, and Brad Binder spoke about how pleasing it was to welcome the Spaniard back to the KTM family.
"Yeah I really like Pol he's one of my favourite people in the paddock. We had a lot of fun when he was my teammate in 2020 and it'll be nice to have him back."
Fabio Quartararo (Monster Energy Yamaha MotoGP™): "Next week I'll maybe call Casey (Stoner)"
Bagnaia revealed at the British GP that two-time MotoGP™ World Champion and MotoGP™ Legend, Casey Stoner, had been giving him some words of advice. And it looks like it's helped as Pecco has become the first Ducati rider since Stoner in 2008 to win three races in a row. Speaking after the race on Sunday, Quartararo might give Stoner a quick ring to see if he's offering his services to the Frenchman.
"At the end, you need to finish in front of your opponents. Clearly, I have two, Pecco and Aleix (Espargaro). Next week I will maybe call Casey. He has also one tip for me? Will be great." 
Jack Miller: "He made me look silly through there!"
Another hot topic from the 2022 Austrian GP was the new Turn 2 chicane. Quartararo made a stunning pass on Miller there in the latter stages of the race to grab P2 off the Australian, and the Ducati star could do nothing but take his hat off to the World Championship leader.

Mark of a Champion: analysing Quartararo's magic Miller move 23/08/2022
"So, I was suffering quite a bit in the left-hand corners, which were my stronger point at the beginning of the race. Especially in that chicane, I wasn't able to attack as aggressively as I would like. I was having to sort of be conservative and prepare and get the exit. Then Fabio came past me and made me look silly through there. Hats off to him.
"The chicane was fun. I think it threw in another aspect of the track. A lot of the corners were very similar. Now at least you've got another element there, some slow… It's probably the fastest change of direction on the calendar. It's got a lot of grip. You can really whack it coming out. It's a lot of fun. I think as the race distance went on, I definitely started struggling there. I think it added another element to the track. When the tires get used, the thing sort of gets a bit squirrelly as you're changing direction. I wouldn't say it made it less physical. 28 laps around here or around anywhere on a MotoGP bike is always physical. Maybe not for Pecco. He's Ice Man. But I was getting pretty tired of pulling my brake lever."